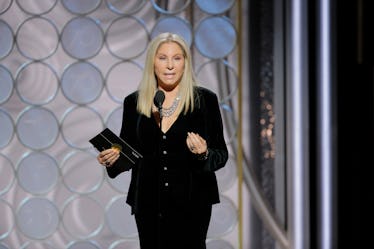 Barbra Streisand Hasn't Seen 'A Star Is Born,' But She Has A Message About The Remake
Handout/Getty Images Entertainment/Getty Images
When A Star Is Born was released last month, the film, which is the third remake since the original 1937 movie was released, held little Easter eggs nodding back to the history of the story. There was a Judy Garland reference, nodding to the 1954 classic. Also, the movie filmed their Glastonbury footage during the set played by Kris Kristofferson, who starred in the 1976 version. But now, Barbra Streisand has weighed in on A Star Is Born giving her opinion on the remake in comparison to the one she spearheaded in 1976.
Streisand admitted she hasn't actually had time to go to the theater and watch the full film. She's working on a brand new album called Walls, from which she has released her first single last month. The album is due to arrive in stores on Friday, Nov. 2, 2018.
But Streisand's performance in the 1976 version of A Star Is Born is legendary. She not only starred in the last remake but also wrote the music for it. It's obvious why director Bradley Cooper wanted her seal of approval. So before the film was finished, he made sure she got a look at an early edited cut of the opening scenes.
Speaking to The New York Times, Streisand admitted she was impressed with what Cooper was doing with the film.
Bradley [Cooper] did show me the opening. I was surprised by how similar it was to my version. I loved how he used the drag bar. I thought that was new and interesting. What I've seen of the film I really liked.
Streisand's remark about how similar the film was to her version is a correct one. When the 1937 film was remade with Garland, the story took a talky drama of Hollywood and turned it into a full-fledged musical, with Ira Gershwin writing the songs to take advantage of their star's specific skill set. When Streisand remade it two decades later, she pulled it completely out of Hollywood and theater and into the world of rock and roll.
Cooper didn't alter this rock and roll setting 40 years on. Jackson Maine is a little more country than Kris Kristofferson's John Norman Maine, but not by much.
Lady Gaga's character Ally plays music which is far more electronic pop than Streisand's character Ethel and her folky tunes, but it's still very in-line with the pop sound of the time. Considering the part Streisand saw would have been the "La Vie En Rose" performance, she probably didn't get a feel for the music Ally winds up making later.
One would be curious what Ms. Streisand would think of the "Why Did You Do That?" song, aka the Butt Song, but as a veteran of the music business, she would probably recognize why this was the number Ally would be told to make by her producers.
A Star is Born continues its run in theaters heading into Oscar season. Meanwhile, Streisand's new album Walls will arrive in stores on Nov. 2, 2018 and is currently available for pre-order.