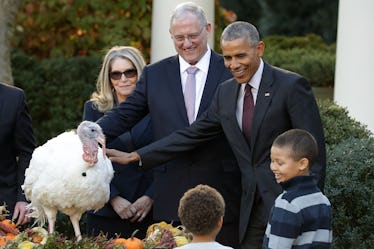 Barack Obama's Thanksgiving Instagram Captures The Spirit Of The Holiday Perfectly
Chip Somodevilla/Getty Images News/Getty Images
Thursday, Nov. 22 marks Thanksgiving, and while most of us are stuffing our faces with food and getting ready for Black Friday shopping, let's not forget to give thanks for what's important. This popular holiday may be known for its seasonal dishes and end-of-the-year sales, but Barack Obama's Thanksgiving Instagram is a reminder of what this holiday is really about. Happy Turkey day, y'all.
President Barack Obama took to Instagram on Thanksgiving morning to share a heartfelt message wishing all of his followers a happy Thanksgiving. It's no secret that the former president is pretty eloquent putting pen to paper (or in this case, fingers to keyboard), but this may just be my favorite post of his yet. He writes:
I am grateful for the next generation of leaders who are doing the work to create the world as it should be. Our young people—tolerant, creative, idealistic—remind us that the best way to honor our communities is to serve them. They understand that hope requires action. From the Obama family to yours, Happy Thanksgiving.
I don't know about y'all, but I'm definitely feeling the holiday spirit. Thank you, President Obama, for making sure we remember that this holiday is a lot more than just turkey and mid-afternoon naps.
I think it's safe to say that the Obamas are absolute masters at celebrating special occasions. While they were in the White House, the first family would celebrate beloved traditions presidential style, but now that they're no longer there, they have to spend their holidays a little differently. Thankfully, it looks like President Obama is still celebrating Thanksgiving the way it's supposed to be spent, by giving back.
On Tuesday, Nov. 20, photos surfaced of Obama volunteering at a local food bank in his hometown Chicago, Illinois. In the photos, Obama wore a Chicago White Sox hat and white gloves while he prepared food with fellow volunteers at the Greater Chicago Food Depository. The food will be passed out on Thanksgiving day. Following Obama's surprise visit to the food bank, the former president took to Twitter to thank volunteers for all of their hard work, and for letting him "crash" the pre-Thanksgiving festivities.
Obviously Obama loves giving back anyway he can during the holidays, but there's one other tradition that the former POTUS loves to do and can unleash freely: dad jokes. Throughout his presidency, Obama would regularly throw in some subtle, but perfectly timed puns while speaking to audiences. In November 2016, during the Obamas last Thanksgiving in the White House, Obama told attendees that he plans to keep the turkey pardoning tradition going even out of the White House.
"What I haven't told them yet is we are going to do this every year from now on," Obama said. "No cameras, just us, every year. No way I'm cutting this habit cold turkey."
Ba-dum tsing. Perhaps Obama wasn't being 100 percent serious when he made that joke, but it definitely still got a few laughs.
Oh Obama, please never change.