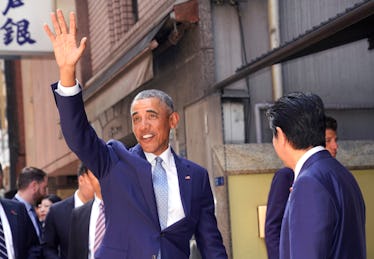 Barack Obama Got Real About The Midterm Elections: "You Are Right To Be Concerned"
Pool/Getty Images News/Getty Images
Since leaving the White House about a year and a half ago, former President Barack Obama has stayed largely out of the public eye. He's resurfaced here and there (he campaigned briefly for Democratic gubernatorial candidates in November 2017 and makes public statement when key policy initiatives of his are undone), but for the most part, the former president has been relatively quiet. But during a rare public appearance made at a Democratic National Committee (DNC) fundraising event in Los Angeles, Barack Obama quotes about the 2018 midterm elections made headlines.
The quotes provide an idea on what President Obama has been thinking about the current political landscape and Democrats' efforts to mobilize their base in order to win back a majority in Congress.
On that front, he advised voters to not wait for a charismatic figure to inspire them to head to the polls.
"Do not wait for the perfect message," he said during the event in Beverly Hills, per Politico, "don't wait to feel a tingle in your spine because you're expecting politicians to be so inspiring and poetic and moving that somehow, 'OK, I'll get off my couch after all and go spend the 15-20 minutes it takes for me to vote,' Because that's part of what happened in the last election. I heard that too much."
He later added, "Boil it down, If we don't vote, then this democracy doesn't work."
Obama's appearance at the fundraiser is actually part of a trio of public appearances he was scheduled to make in Los Angeles, within a span of days. The other two are being held on Friday, June 29.
During the DNC event held on Thursday, he talked about both the future and the past "I'll be honest with you, if I have a regret during my presidency, it is that people were so focused on me and the battles we were having, particularly after we lost the House, that folks stopped paying attention up and down the ballot," Obama said.
The former president speaks accurately.
The first of President Obama's two terms in office began with Democrats holding a majority in the House of Representatives and a "super majority" in the Senate (i.e. a filibuster-proof group of 60 Democrats). By the end of his second term, Republican recaptured the House, Senate, and the White House. Plus, the GOP gained 1,000 legislative seats nationwide — taking into account state House races, and other local elections — during Obama's tenure.
Another problem that seemed apparent — besides what Obama described as a focus on him — is the fact that the DNC has financially been in disarray for years, thanks in part to debts incurred by Obama's presidential campaign.
That bleak financial picture persisted well after the former president's departure. In contrast, the Republican National Committee (RNC) income has doubled the DNC's many times over.
Praise for the RNC's operation was among Obama's comments on Thursday.
"They don't worry about inspiration," the former president said. "They worry about winning the seat and they are very systematic about work not just at the presidential level but at the congressional and state legislative levels."
While he gave a bit of credit to his opposing party, he was adamant that Democrats would win elections if they simply focus on the truth and not "exaggerate."
"The Democrats' job is not to exaggerate; the Democrats' job is not to simply mimic the tactics of the other side," Obama said. "All we have to do is work hard on behalf of that truth. And if we do, we'll get better outcomes."
Time will tell if he's on to the right idea.