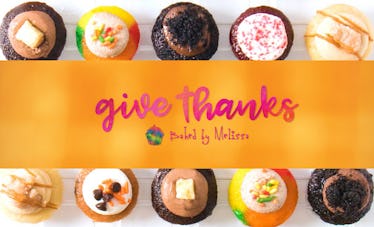 Baked By Melissa Is Selling Thanksgiving Cupcakes That Are Perfect For Friendsgiving
Courtesy of Baked by Melissa
I don't know about you, but I never know what to bring to Friendsgiving. I usually plan on making a Pinterest-worthy dessert of some sort — but I always find myself waiting until the last minute and buying a box of cookies from the grocery store instead (sigh). Thankfully, Baked by Melissa is making Friendsgiving 2018 a lot easier by offering festive cupcake assortments in honor of the upcoming holiday. They're called Baked by Melissa's Give Thanks and Friendsgiving packs, and they're the perfect post-dinner treats to bring to your Turkey Day parties.
Let's start with Baked by Melissa's "Give Thanks" cupcake pack, because it's perfect for small Thanksgiving gatherings with close family members and friends. According to Baked by Melissa, the Give Thanks pack includes 25 adorable cupcakes, which means there will be just enough for you and your family to have seconds (or thirds, depending on how many of you there are). Plus, the pack contains six handcrafted cupcake flavors that'll definitely fulfill your autumnal cravings.
That's right: When you order a limited-edition Give Thanks cupcake pack from Baked by Melissa (which costs $28 dollars online), you'll get to try a handful fall-inspired flavors that are perfect for the Thanksgiving dessert table. Those flavors include Caramel Apple Pie, Snickerdoodle, Chocolate Cheesecake, and Chocolate Chip Carrot Cake. The two remaining flavors are Triple Chocolate Fudge and Red Velvet Cake, so anyone who's craving classic Baked by Melissa flavors will be happy.
Let's take a closer look into the Thanksgiving-inspired flavors, shall we? I'll start with Caramel Apple Pie, because I'm a total sucker for caramel anything.
YUM?!
OK, now I'll move onto Snickerdoodle. Take a peek:
How cute, am I right?
Let's move onto Chocolate Cheesecake:
Yup. I am *READY* for dessert.
Now, let's dive into the Chocolate Chip Carrot Cake. As someone who loves chocolate chips, this might be my favorite out of the bunch.
See?! Between its chocolate chips and orange sprinkles, it's the perfect Thanksgiving dessert. Heck, all of them are the perfect Thanksgiving desserts.
Now that you know a little bit more about the Give Thanks cupcake package, you probably want to order a ton of them (I don't blame you). Thankfully, Baked by Melissa made that possible with a larger package, which the company calls its Friendsgiving 50-pack. If you order a Friendsgiving 50-pack online, you can choose from the Give Thanks pack, The Latest & Greatest pack, or The All Stars pack. Whichever 50-pack you choose, it'll cost you $56 on Baked by Melissa's website.
Whether you end up buying the 25-pack or the 50-pack of Baked by Melissa's Thanksgiving cupcakes, you should be proud of your purchase. Why? Because for every Give Thanks pack that's sold, Baked by Melissa will donate one dollar to City Harvest to help feed an NYC-based family of four. Yep, that's what Thankgiving is all about.
Now go ahead and purchase a pack or two of Baked by Melissa's Give Thanks flavors. Not only will your friends love 'em, but you'll also be supporting a meaningful cause this holiday season.