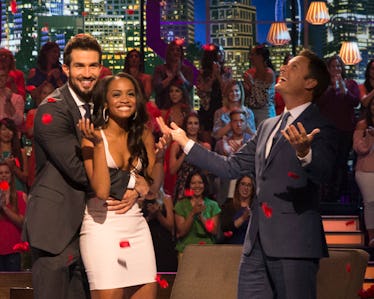 Rachel & Bryan From 'The Bachelorette' Announced Their Wedding Plans & We're Screaming
Any Bachelor Nation follower knows that the track record of Bachelorette marriages is laughably better than the history of Bachelor leads marrying their Final Rose picks. Currently, three former Bachelorettes are married to the men they met on the show, while another three are still engaged to the receivers of their Final Roses. The most recent lady to happily ride off into the sunset with her last man standing may tie the knot sooner than you think. Bachelorette couple Rachel Lindsay and Bryan Abasolo have confirmed that they want to get married this year and that they may even share the special day with franchise fans. Fingers crossed!
Speaking to Extra, Bryan spilled the tea about the duo's tentative wedding details (or, TBH, lack thereof):
We haven't set anything yet. We definitely want to get married this year, and that's the plan. 2018, it's gonna happen. The only thing is the details haven't been worked out. Rachel isn't much of a planner, so she'll kind of deal with it as it comes along, but, as you know, right now, we're just taking our time.
Psst, Bryan, let me fill you in on a secret – guys can plan weddings, too!
With the couple considering having two wedding ceremonies in Dallas, their home city, and Colombia, where Bryan's family is from, the 37-year-old isn't ruling out a televised wedding:
Right now, we enjoy showing everybody how in love we are. And I think that would be the culmination of our love story, or the beginning of it. I think we would definitely enjoy doing it on national television.
All of the married couples who met on The Bachelor, Bachelorette, or Bachelor in Paradise have aired their weddings on ABC with the exception of Bachelorette Desiree Hartsock and her now husband Chris Siegfried. Their 2015 wedding still looked absolutely gorgeous and, dare I say, better than any ABC-funded event would be. Unlike Rachel, engaged Bachelorettes Kaitlyn Bristowe and JoJo Fletcher are seemingly in no rush to marry their fiancés Shawn Booth and Jordan Rodgers.
However, given JoJo and Jordan's low-key nature and the accidental reveal of Kaitlyn and Shawn's relationship before their season finale, I would bet that Rachel and Bryan's televised wedding is far more likely to happen than it is for those other couples. Of course, staying together for over a year is basically equivalent to a decade in Bachelor Nation, so I still have faith in in these other pairs getting married someday. A quick stroll through both JoJo's and Kaitlyn's Instagram accounts also shutters any doubts about the couples' commitment to each other.
Rachel, 32, has also been vocal about getting married soon. Speaking on Bachelor alum Olivia Caridi's Mouthing Off podcast in November, she discussed just how ready she is to seal the deal with Bryan:
I'm truly ready to get married to Bryan. We're six months in, like, I would know at this point if he wasn't the one. Like, I could elope tomorrow. We won't, but...I'm not opposed to [a televised wedding], but we'd have to see. I say I'm against a reality TV show about our love, but I'm not against a wedding, because I feel like...a lot of people are invested and want to see it. And I think it'll just be so great for people to see Bryan, see that this Bryan is real and this is why I chose him...He deserves it.
It sounds like Rachel is more than confident in a future with Bryan. If he isn't involving himself in the wedding plans, then Bryan must just be dedicated to ensuring that Rachel has her absolute dream wedding. Count me in as a fan who would love to see their wedding on TV sometime soon!