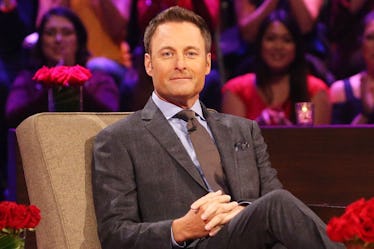 Bachelor Nation's New Social Media Policy Condemns Racism & It's About Freaking Time
Paul Hebert/ABC
The Bachelor franchise is taking a very important stand to create a safer environment for both its stars and its fans. On Tuesday, Sept. 29, Bachelor Nation released a new social media policy that condemns racism and all forms of hate across all platforms. In an Instagram post on the Bachelor Nation account, the statement read:
We encourage you to have fun and share the love in the comments of our posts and the posts of our cast members. However, we condemn racism, bullying and hate in all its forms and have introduced new community guidelines for interacting on our posts. We will be deleting comments which are abusive towards our cast members, and reserve the right to block users who display this behavior.
The post ends with the question, "Are you here for the right reasons?" which references a phrase many contestants in Bachelor Nation use to to prove they're genuinely looking for love. Now, Bachelor Nation is using the phrase to encourage fans to channel the positivity of love rather than hate online.
Bachelor Nation published additional guidelines on its website. The franchise stated that it reserves the right to delete comments on social media posts for reasons that include:
Obscene language
Insults, threats, or harassment of other users, organizations, or cast members
Comments which are hateful, racist, xenophobic, homophobic, transphobic, sexist, sexually explicit, or vulgar in nature
This move comes after many fans and alums have expressed a desire for the Bachelor franchise to speak out against the hate and promote more diversity on the shows. The Bachelor Diversity Campaign, a group of fans who got together on June 10 to push for antiracism in Bachelor Nation, is considered one of the loudest voices criticizing the franchise — along with former Bachelorette Rachel Lindsay, of course.
Many Bachelor Nation alums commented on the new Instagram, praising the franchise for taking this step. "Hell yeah, finally. This will help a lot of contestants mental health I'm sure," Alayah Benavidez, a contestant from Peter Weber's Bachelor season wrote.
However, many alums and fans alike point out this course of action was long overdue. "It's a great call but way too late for this! So many contestants have already endured so much abusive treatment. I feel like they're not doing it because they care but because they finally feel obligated to," Instagram user @missmandala45 commented.
Here's hoping this new policy leads to a healthier fandom for everyone.
Season 16 of The Bachelorette premieres on Tuesday, Oct. 13, at 8 p.m. ET on ABC.