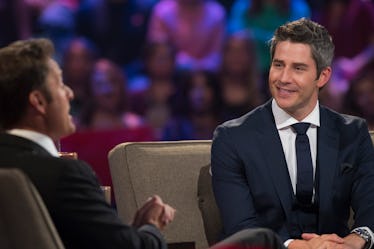 Arie Luyendyk Jr. Has A Serious Mugshot & Fans Are Asking Questions
ABC/Paul Hebert
It's been a rough week for Bachelor Arie Luyendyk Jr. On Monday, Arie became the most hated man in Bachelor Nation after he proposed to Becca K. in the Season 22 finale of The Bachelor and then broke up with her shortly afterward. On Tuesday night, he proposed to runner up Lauren B., but fans responded with far less excitement than the new couple likely hoped for. And on Thursday, news broke that the race car driver was arrested in 2008. As with any celeb crime, a mugshot soon surfaced, and boy, is Bachelor Arie's mugshot a thing to behold.
First, the facts: According to Page Six, Arie's mugshot comes from an October 2008 arrest for driving with a suspended license in Scottsdale, Arizona. This may come as a shock, considering that driving cars is literally what he is paid to do, but Arie's suspended license arrest isn't his only car-related run-in with the law. The Daily Mail reports that Arie had been given tickets for a variety of traffic infractions, allegedly including failing to provide proof of insurance, following other cars too closely, speeding, failing to obey a traffic signal, and changing lanes unsafely. As a result of Arie's inability to understand that public roads are not a NASCAR course, Arizona's Department of Motor Vehicles reportedly suspended Arie's license, but he continued driving, which ultimately led to his arrest and subsequent mugshot. Elite Daily reached out to ABC and Arie's team regarding the case but did not hear back by the time of publication.
This is not your average mugshot. This is no Justin Bieber or Lindsay Lohan type mugshot where they smile smugly for the camera. This is the face of a guy who knows he seriously messed up — by reportedly driving with no license and by thinking that he could get away with this mustache.
According to a police report of the incident on RadarOnline, Arie's arrest seemed to stem from a misunderstanding on his part. When an officer pulled Arie over for a traffic stop (he reportedly changed lanes without warning, forcing the car next to him to brake suddenly to avoid a crash), he allegedly realized that Arie didn't have a valid driver's license. According to RadarOnline, the police officer, "asked Luyendyk if he knew anything about his driver's license being suspended," and Arie reportedly replied, "Yes I did, but I took care of it." After Arie handed over his paperwork, the officer reportedly saw that Arie's license had been reinstated by the City of Scottsdale but not by the Arizona Department of Motor Vehicles, so the officer reportedly had no choice but to place Arie under arrest. Later, Arie pleaded guilty to one count of driving on a suspended license and was allegedly fined a total of about $260.
While Arie definitely deserves to be dragged for the way he handled the Becca K./Lauren B. situation, I'm not sure that he really deserves to be dragged for his mugshot. I mean, this was 10 years ago when Arie was just 26 years old. Who hasn't done stupid stuff in their twenties? But at the same time, the whole repeat offender thing doesn't exactly work in his favor, either. How many times do you have to get stopped by the police to realize that maybe you should cool it with the race car driver antics? Are you really in that big of a hurry to get to the grocery store?
The reveal of Arie's 2008 arrest isn't the only legal minefield the Bachelor has had to navigate this week. On Monday, a state representative from Minnesota, Rep. Drew Christensen, promised to introduce a bill barring Arie from Minnesota (Becca's home state) for good. While it likely started as a joke, Rep. Christensen has since received support from Bachelor fans everywhere, leading him to introduce the bill on Wednesday, March 7.
While it remains to be seen whether Arie will actually be banned from Minnesota, one thing is clear: Becca must be loving all of this.