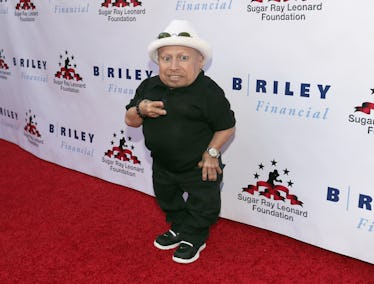 'Austin Powers' Verne Troyer Has Died At Age 49 & Fans Are Heartbroken
Mark Davis/Getty Images Entertainment/Getty Images
It's always tragic to lose a beloved artist, but when it's someone who embodied a character that gave so many of us the best laugh of our childhoods, the sting is that much harsher. Austin Powers fans have come to the end of an era, as actor Verne Troyer has died at age 49, according CBS News. The actor, who was best known for his role as Mini-Me in the Austin Powers movies, passed away on Saturday April 21, according to a statement from his family. The statement did not disclose a specific cause of death.
Troyer's death was announced via a post from his official Instagram account on Saturday afternoon. "It is with great sadness and incredibly heavy hearts to write that Verne passed away today," the statement began. It continued,
Verne was an extremely caring individual. He wanted to make everyone smile, be happy, and laugh. Anybody in need, he would help to any extent possible. Verne hoped he made a positive change with the platform he had and worked towards spreading that message everyday. He inspired people around the world with his drive, determination, and attitude. ... He also touched more peoples hearts than he will ever know. Verne was also a fighter when it came to his own battles. Over the years he's struggled and won, struggled and won, struggled and fought some more, but unfortunately this time was too much. During this recent time of adversity he was baptized while surrounded by his family. The family appreciates that they have this time to grieve privately. Depression and Suicide are very serious issues. You never know what kind of battle someone is going through inside. Be kind to one another. And always know, it's never too late to reach out to someone for help.
The statement also asked that in lieu of flowers, mourners donate to one of Troyer's favorite charities, The Starkey Hearing Foundation or Best Buddies.
Troyer was best known for his breakout role as Mini-Me in 1999's Austin Powers: The Spy Who Shagged Me, a role which he reprised in 2002's Goldmember. Beyond his Austin Powers appearances, he had a varied career in film and television, with credits including roles in the 2009 Terry Gilliam film The Imaginarium Of Dr. Parnassus and as Griphook the goblin the first Harry Potter film (his role was later taken over by Warwick Davis in subsequent films). He was also famous for his short stature: at 2 feet 8 inches, he was a record-holder as shortest actor, according to The Hollywood Reporter.
When news of the actor's death broke, many fans took to social media to mourn him.
In his personal life, Troyer had publicly addressed his struggles with alcohol abuse, telling The Hollywood Reporter in 2016 that he'd "had a bit of an alcohol problem," but noting that he had gone sober. "That was a bad period in my life," he said of his previous drinking. In April of 2017 he posted a message to his Instagram telling fans that he was receiving treatment for alcohol addiction. He wrote,
As you know I've battled alcohol addiction in the past and while it's not always been an easy fight, I'm willing to continue my fight day by day. I've been receiving treatment for the last week and I am voluntarily checking in to a treatment center later this week to continue to get the help that I need.
In early April of 2018, Troyer was reportedly hospitalized after reports that the actor was suicidal. TMZ reported on April 3 that a friend of Troyer's had called police to express concern that he was "extremely upset, drunk and suicidal," and the actor had been taken to a hospital for treatment for potential alcohol poisoning. A message posted to Troyer's Instagram at the time asked fans to "keep Verne in your thoughts and prayers."
In our thoughts and prayers then, now, and always, Verne. Rest in peace.