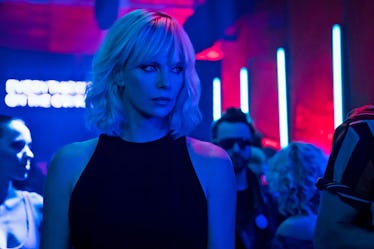 'Atomic Blonde 2' Is Officially Happening, So Get Ready For More Badass Action
Focus Features
Sometimes we just need nonsensical spy movies to keep us entertained, and last summer, Atomic Blonde was the perfect solution for this need. Charlize Theron in the starring role made us feel like any of us could be sexy spies tracking down double agents. In a move that ought to bring us even more satisfactory action sequences and Theron at her fiercest, Atomic Blonde 2 is officially happening, and I couldn't be more ready.
While speaking with Indiewire at the San Francisco Film Festival earlier this week, Theron confirmed another Atomic Blonde film, saying, "We're working on a sequel." The star's statement isn't the first time that the idea of a sequel has floated around. Director David Leitch, who made his solo directorial debut with Atomic Blonde, and stunt coordinator Sam Gargrave previously told Bustle that they were planning a plot for a second film. Leitch said:
I think we take [Lorraine] into the '90s. That's what I think... And there's a lot of people that are already buzzing about, 'Hey, we should do it, we want to see the character again.' Lorraine Broughton is a really compelling, fun character. There's a lot of wish fulfillment in her, for both men and women.
Theron's MI6 spy Lorraine was first introduced in 1989 in Atomic Blonde, when she was given the task of tracking down intelligence agents throughout Berlin. From the '80s-centric soundtrack to the gritty setting prior to the collapse of the Berlin Wall, Atomic Blonde was truly a badass, fantastical view of a spy storyline that could have felt way too familiar otherwise. Originality counts, guys!
Bringing Lorraine into the '90s would be a logical step in the right direction, and if that plan follows through, a soundtrack comprising of that decade's hits would be essential. The original film included hits from David Bowie, The Clash, and George Michael, and it would be a sore disappointment if a sequel didn't follow suit with more musical favorites.
Given its cliffhanger ending, a sequel was even in talks within weeks of the film's release last summer. Speaking to Heat Vision, Theron revealed:
We're starting that conversation now. We're definitely talking.
Screenwriter Kurt Johnstad even said last year that he could see even more stories branching out from the original film, saying:
I'm prepared for a sequel. I see it as three movies. It might be more.
Um, does this mean we can see Lorraine take on cyber security and Y2K in a third film set in the early 2000s? I'm in!
Whenever filming for an Atomic Blonde sequel kicks off, Theron will have to go through plenty of preparation to ready herself for the high-intensity action sequences. Speaking to Indiewire, she detailed the difficult athletic training she encountered for the Atomic Blonde role:
I have the muscle memory, but I hadn't done anything like that for many years. The strength level was starting from scratch. I do have the discipline, dance teaches you that. I don't like people telling me there's something that I can't do. I thrive in that environment.
Atomic Blonde was adapted from the graphic novel The Coldest City, and although the movie embraced some creative liberties, a second film could turn to the novel's prequel, The Coldest Winter, for plot inspiration. However, the distinctions between the movie and original book are clear enough for the prequel to be disregarded. As Coldest City co-writer Antony Johnston said to Comicbook.com, Atomic Blonde worked so well in including originality and the best of the original story that more similarities aren't necessarily required:
When we created this book, we had no thought whatsoever that it would end up on the silver screen. And the way in which it was adapted, from [Kurt Johnstad]'s screenplay to [David Leitch's] direction, and even Jonathan Sela's wonderful cinematography. It was such a wonderful interpretation of the book, because while the story is the same, they're quite different in feel. The book is very noirish, sober, and the film of course is very high-octane, action-packed, whilst remaining true to the story. So that I thought was a fascinating approach to take, and made for a really interesting interpretation. It also means that the movie is very much its own thing, which I was fully in favor of.
Until further news of an Atomic Blonde sequel appears, it looks like I'll have to just rewatch the first film to hold me over. Time to live out my dream of being a spy!