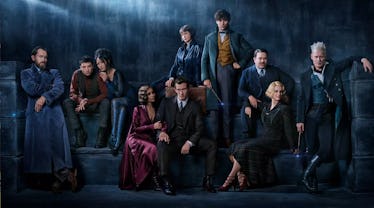 Here's Everything We Know About The New 'Fantastic Beasts: Crimes Of Grindelwald' Characters
Warner Bros.
It's all happening, Potterheads. If you're looking for a little more wizardry in your life, look no further than the newest installment of the Fantastic Beasts franchise, because it's coming faster than a speeding Thunderbird. Nov. 16 is the official release date (um, only a year to go!) for the next chapter in the mighty juggernaut that all started with Harry Potter. And it looks like we'll be introduced to a few new Fantastic Beasts: The Crimes of Grindelwald characters in the anticipated sequel. But just who are these fresh faces and should we be enchanted to meet them?
Well, for starters, there's the nefarious Gellert Grindelwald — hence the title. You may recall our creature-carrying hero, eccentric Magizooligist Newt Scamander (Eddie Redmayne), and MACUSA captured his dark wizarding butt at the end of the first film. We only got a brief peek at Johnny Depp's portrayal of the villain, as he was previously disguised as Colin Ferrell's Percival Graves. Yes — the mythology surrounding this whole narrative is a complex saga of knotty personal histories and many years of wizard drama, and it looks like Grindelwald's agenda will be front and center in the next movie. Warner Bros. says of what we should expect:
Grindelwald has made a dramatic escape and has been gathering more followers to his cause – elevating wizards above all non-magical beings. The only one who might be able to stop him is the wizard he once called his dearest friend, Albus Dumbledore. But Dumbledore will need help from the wizard who had thwarted Grindelwald once before, his former student Newt Scamander.
Dun. Dun. Dun. Which brings us to some of those new characters...
Jude Law will step into Dumbledore's shoes, playing a younger version of the iconic professor. You're not alone in thinking this — he looks, um, different. We see the humble beginnings of a beard in the film's telling cast photo, but Jude looks more like a disgruntled Armani model than the Hogwarts headmaster we've come to know over the years. We'll take it. Happy to see you again, Albus.
Callum Turner is set to portray Newt's serious-looking war hero brother, Theseus Scamander. He was brought up in the first film inciting plenty of intrigue, much like his fiance, Leta Lestrange. Zoe Kravitz takes on that role, a mysterious former Hogwarts flame of Newt's. "The relationship between Leta and Newt Scamander is a complex relationship, so I think there will be a lot of time for that to grow and develop, which will be fun," she told Collider of their future. There's also wizarding circus performer Maledictus, played by Claudia Kim. She's described as a "carrier of a blood curse that destines her ultimately to transform into a beast."
The new cast photo doesn't give us a glimpse at all the new recruits, but we know more should debuts as the year goes on. There's circus boss Skender (Ólafur Darri Ólafsson,) wizard Yusuf Kama (William Madylam), as well as bounty hunter Grimmson (Ingvar Sigurdsson.) Former Daily Show correspondent (and Harry Potter superfan) comedian Jessica Williams was recently announced to be joining the esteemed team.
Of course, Eddie Redmayne is reprising leading man Newt. Also set to return is Dan Fogler as the lovable Jacob Kowalski and Alison Sobol as the delightful mind-reading Queenie. Katherine Waterston will come back as her bewitching sister Tina. As you can see in the cast photo, we haven't seen the last of Ezra Miller's Credence Barebone.
Fantastic Beasts: The Crimes of Grindelwald is the second part of five films that are currently slated to be released under the Fantastic Beasts franchise. Make room in your wizard-loving brains, people. We're guessing there will be a long list of new magical characters to keep track of along the way.