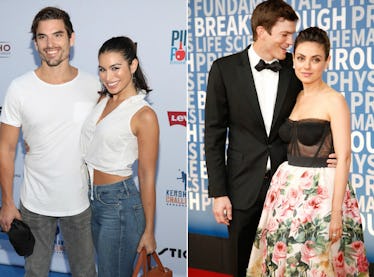 Ashley & Jared Invited Mila Kunis & Ashton Kutcher To Their Wedding, Because Duh
Kimberly White/Jerritt Clark/Getty Images Entertainment/Getty Images
Celebrities are members of Bachelor Nation, too. Being a movie star does not preclude you from following Astrid and Kevin's relationship or being curious about what Becca's Neil Lane diamond looks like. Anyone can be a fan. Case in point: Mila Kunis, who is a notably avid watcher of the franchise with her hubby Ashton Kutcher. The duo is even open to attending some highly anticipated Bachelor in Paradise nuptials. It's true — Ashley and Jared invited Mila Kunis and Ashton Kutcher to their wedding. Ashley Iaconetti recently divulged to Us Weekly that the world famous actors would totally be down to watch her and Jared Haibon say their "I dos."
"They're Bachelor fans. They've talked about us publicly, personally multiple times," Iaconetti shared about her August encounter with Ashton and Mila. "So we knew all we had to do was make eye contact with them. When we did, it was like all our dreams came true. Ashton was like, 'No way!' He got so stoked."
"Mila was like, 'Don't even tempt us with inviting us to the wedding because we'll actually take you up on the offer,'" she also revealed.
Jared and Ashley promised to extend an invitation to their big day, because why not?
"We're like, 'Don't you worry, we're inviting you,'" Jared added.
Um, this couple friend group is my new favorite.
Bachelorette viewers may remember that Mila and Ashton actually made an appearance on Rachel Lindsay's season of the dating competition series.
"We were like, 'Let's go on, like, a fun date in the afternoon. What should we do? Let's go be on The Bachelorette,'" the Spy Who Dumped Me star recalled on Live With Kelly and Ryan.
Ah, just a casual afternoon cameo-ing on a hit reality show... That's what I call a fun date.
"This is like our greatest guilty pleasure of all time," Ashton has previously stated regarding his love for all things Bachelor related. "Monday night is like religion in our house ... This is our thing. I mean, it's unbelievable, this show. It's like the greatest social experiment of all time."
Hmm. Maybe Ash and Jared should send invites to other high profile viewers like Charlize Theron, Andrew Garfield, and Lea Michele. The actors, in addition to other celebs, have all been vocal about their reality show superfandom in the past. You never know who's open to buddying up to the close-knit Bachelor family.
Ashley and Jared are set to tie the knot in Rhode Island next August. They have not confirmed if the wedding will be televised just yet, but the concept is not off the table.
"I think right now, we're just trying to figure out the best wedding for us, and whether that be televised or not televised is a secondary option," Jared revealed to Bustle. "We don't want to compromise for the fact of it just being televised."
"I think we're both down for it, but our caveat is that we want the guests... as many guests as we want and we don't want to have to be limited to that," Ashley additionally explained on her Ben and Ashley I Almost Famous Podcast.
Whether the BiP faves get hitched on camera or not, hopefully their new BFFs Mila and Ashton can take time out of their busy schedules to be a part of the celebration.