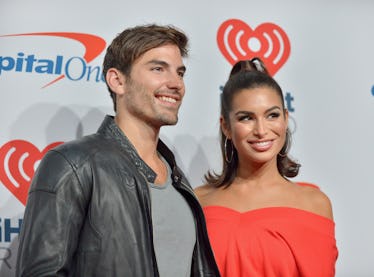 Ashley Iaconetti & Jared Haibon Revealed Which 'Bachelor' Star Will Officiate Their Wedding
Sam Wasson/Getty Images Entertainment/Getty Images
If you've been keeping up with Ashley Iaconetti and Jared Haibon's relationship, then you know that the two are set to marry sometime in 2019. While many have speculated that famed Bachelor host Chris Harrison would be officiating their wedding, it's been revealed that someone else will do the honors. So, who's the lucky person? Ashley Iaconetti and Jared Haibon chose Tanner Tolbert to officiate their wedding!
The exciting news was announced via Instagram. Haibon took to his personal Instagram account to post a photo of himself, Iaconetti, and Tolbert while vacationing in Puerto Rico. Tolbert's wife, Liz Roper, is also vacationing with them, but she isn't in the photo. Tolbert's daughter Emmy is in the photo, though, so that's kind of adorable.
"Dearly beloved, @tanner.tolbert is officiating our wedding in August 2019. This is a preview of things to come," he captioned the sweet photo.
This isn't the first time Haibon and Iaconetti revealed that Tolbert might be involved in their wedding. They actually told Entertainment Tonight that they wanted him to officiate the wedding way back in July 2018.
"We want Tanner to officiate the wedding," Haibon said at the time. "I can already see him with his smile again."
"He'll provide the laughs, cries. Not just cries, but the laugh cries," Iaconetti added.
So, it seems like Haibon and Iaconetti definitely know what they want for their wedding day. And it seems like they're going to get it.
In any case, this is the photo Haibon shared on Instagram:
Iaconetti and Haibon got engaged in July 2018 during the filming of Season 5 of Bachelor in Paradise. The two were in Mexico at the time, so they were in the perfect location for a romantic proposal.
At the time, the couple revealed to ET how they plan to make their relationship and their marriage work long term.
"It is easy," Haibon said. "I have never been in a friendship or a relationship that has ever been easier and we never get tired of each other. We never get tired of each other. That is definitely one of the big things because I get tired of my best friends. Like, if I am with them for 24 hours I'm like, 'Get out of my house,'" Iaconetti said jokingly. "With him, I think we have only been separated for a maximum of, like, 16 hours since being engaged. That was one night apart and I haven't been tired of him at all. I haven't been thinking, like, 'Oh, I am craving alone time right now.' I don't crave alone time with him, which is so nice."
So, Iaconetti and Haibon really have it all worked out. As for the wedding itself, well, they told ET that they plan to exchange vows during the "first two weeks of August."
Iaconetti also revealed that the dress and venue are all set. "We have a dress. We definitely have the venue picked out," she said.
Sounds like everything is coming along just fine! I'm sure the wedding is going to be beautiful. Hopefully Iaconetti and Haibon will share a glimpse of it with their fans when the special day rolls around.