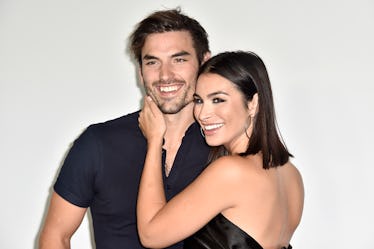 Ashley I. & Jared Just Opened Up About When They Plan On Getting Married
Frazer Harrison/Getty Images Entertainment/Getty Images
This summer has been life-changing for newly engaged couple Ashley Iaconetti and Jared Haibon, proving that we didn't watch Ashley cry about their lack of a relationship on two years of Bachelor in Paradise for nothing. We're still waiting to see Jared's proposal on Paradise, but IRL, the pair is getting ahead in their wedding planning. At this rate, I'd rather watch them pick out flower arrangements than catch up on the latest Tia and Colton Paradise drama, because Ashley I. and Jared's wedding plans are bound to be epic. Has Ashley decided whether she's having a bouquet of roses on the big day?
In a move that's totally relatable to anyone else in the midst of wedding planning, Ashley and Jared spilled to Entertainment Tonight about the stresses they've experienced so far. It turns out that even if you get engaged on a picturesque Mexican beach, the reality of getting married is still just as messy as it is for everyone else. Both Ashley and Jared pointed out the craziness of prices within the wedding industry, with Jared telling ET:
It's a little scary when you start to see the prices. You go wedding shopping and venue shopping and you're like, 'Oh my God, this is real and this is something we're going to have to pay for,' so it's a little nerve racking and super exciting.
The couple has previously spoken about getting married next summer, giving them about a year to perfect their dream day. While shooting engagement photos for People earlier this summer, the Bachelor franchise alums also shared their wish to have Paradise friend Tanner Tolbert officiate the wedding. Tanner met his wife Jade Roper on Season 2 of Paradise, where Ashley and Jared also met for the first time. Tanner and Jared competed on Kaitlyn Bristowe's Bachelorette season together, while Jade and Ashley were both Bachelor contestants during Chris Soules' year. Bachelor Nation is full of crazy coincidences.
As for whether Jared and Ashley's wedding will join the ranks of televised Bachelor weddings, the answer isn't as obvious as fans may think. Seeing as the couple is looking at venues on their own and have even discussed getting married in Jared's home state of Rhode Island, a dreamy California wedding on ABC's dime doesn't seem likely. Ashley told ET, "We wish we could do it on TV, but... we haven't really had the offer, so we're doing it on our own right now."
Hey, there's nothing wrong with Bachelor Nation not having a direct look at this miracle wedding. Isn't that what Facebook Live and Instagram Stories are for?
We may have to wait a day or two for photos of Jared and Ashley's debut as husband and wife if their wedding is private, but Jared's Paradise proposal is imminent. Promos have hinted that some current contestants will also get engaged by the end of Season 5, but Ashley and Jared's moment in the spotlight is what we've all been waiting for. Jared hinted to ET that his proposal is "long-winded," so expect a short and sweet moment whenever these two crazy kids pop up on the beach. Fair warning: I'll be playing that moment on a loop until the first wedding pictures hit the web next year.
Bachelor in Paradise continues on Monday, Aug. 27 at 8 p.m. ET on ABC.