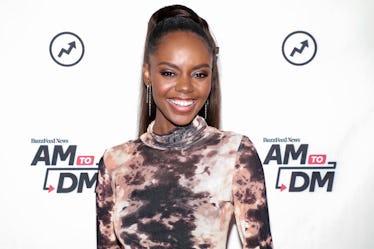 Ashleigh Murray's Response To A Hater Calling Her A Diva Is So Powerful
Jason Mendez/Getty Images Entertainment/Getty Images
Ashleigh Murray got her big break as an actress when she was cast as Josie McCoy, leader of Josie and the Pussycats, on Riverdale in 2017. In May 2019, it was announced Murray's character would no longer be a series regular on Riverdale, and she would reprise her role as Josie on the show's spinoff Katy Keene. For whatever reason, a full year later, one viewer had a lot to say about why Murray was written off Riverdale, and Ashleigh Murray's powerful response to a hater calling her a diva sheds light on the unequal treatment black actresses experience in Hollywood.
On May 31, a hater tweeted (and later deleted) these claims about Murray: "The pussycats were written off because @iamamurray is a known diva and didn't wait to share the screen with other talented women even on Katy Keene she barely shares scenes with other women because she's a diva."
Murray defended herself in response, writing: "Lol you clearly have me mixed up with someone else. I love the Pussycats more than any show ever did. If it were up to me, we'd have our own show. And you obviously don't watch Katy Keene because sis is surrounded by women. So f*ck all the way off."
Murray's friend and Riverdale co-star Vanessa Morgan got wind of the conversation and also fired back, pointing out the problematic pattern of people calling black actresses divas for speaking their minds.
"You don't know what the f*ck your talking about and don't talk about my friend like that," Morgan fired back. "Another thing i hate BLACK women being called DIVAS for sticking up for themselves. Maybe the show should write for her like the white characters. You picked the wrong day get off my page."
The tweet sparked a bigger conversation, with Morgan and Murray addressing the negative portrayal of black people in the media and their experiences as black actresses, often getting relegated to small, side-kick roles.
"Tired of how black people are portrayed in the Media," Morgan wrote. "Tired of us being portrayed as thugs, dangerous or angry scary people. Tired of us also being used as side kick non dimensional characters to our white leads. Or only used in the ads for diversity but not actually in the show. It starts with the media. I'm not being quite anymore."
Murray retweeted actress Lesley-Ann Brandt's suggestion that people in Hollywood "reach out to your black artists and talk to them about their experiences, struggles, grievences and hopes."
Murray tweeted: "These are the ways we can implement real change. The beginnings of concrete conversations and plans of action that will mold our future for the better. We are not asking for special treatment. We are asking for equal treatment."
Morgan and Murray took the unfair criticism of a hater and turned it into a much-needed conversation about representation in media.