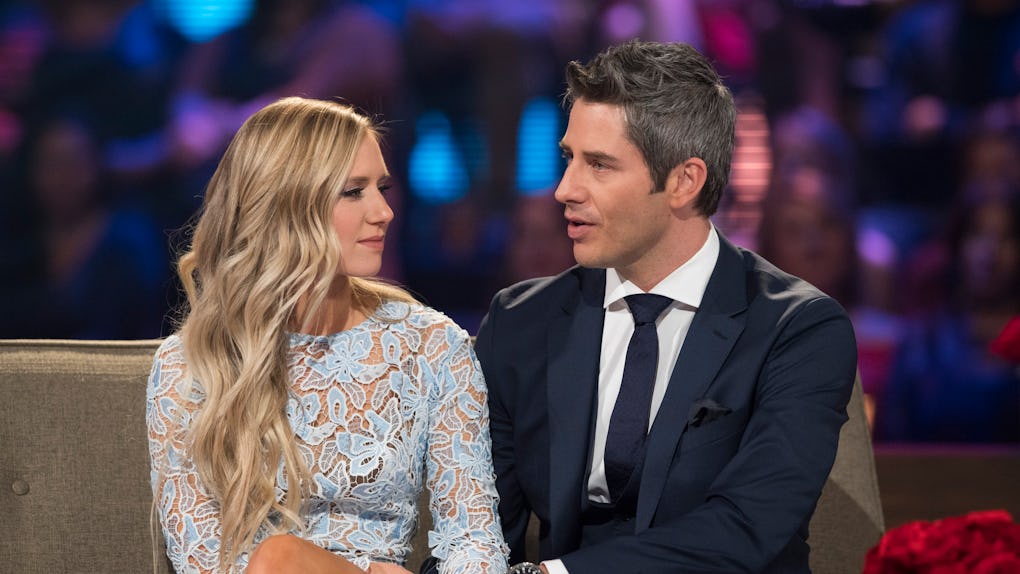 ABC/Paul Hebert
Arie & Lauren Went To The Maldives At ""Becca's Request,"" But You Won't See It On TV"
One of Becca's exes showed up in the gorgeous Maldives for her big Bachelorette finale (nope, not Ross, although that would be interesting), but apparently Bachelor Nation won't be seeing what went down. According to the Bachelor alum — and Becca's former fiance himself — Arie and Lauren went to the Maldives at "Becca's request" for a conversation that didn't make it air. Arie took to Instagram Monday night during the Season 14 closer to explain to followers that he and his current wife-to-be made quite the tropical trip for the show. He wrote:
Lauren and I flew to the Maldives at The Bachelor and Becca's request. It's a conversation that unfortunately won't be shown but it was really positive for all of us. You can imagine this trip could have been very difficult for Lauren but she has supported and stood by me in all of this... I thank and love her everyday because of that. We wish Becca all the happiness in the world and can't wait to see how tonight goes!
It's unclear as to why Becca would request to have her ex and the gal he dumped her for join her for one of the most important milestones in her life on a romantic getaway, but this is reality TV and anything goes... even if it could be ridiculously awkward. But I guess we'll never know.
Lauren and Becca were finalists on Arie's Season 22 of The Bachelor and he notoriously proposed to Becca, and then ultimately broke up with her for runner-up Lauren in a cringeworthy televised un-edited event. Becca went on to become the Bachelorette and Lauren and Arie went on to become engaged. The duo have been sharing the pre-wedded bliss on social media and beyond ever since. They've traveled the world and recently bought a home in Arizona. The pair are even planning an intimate Hawaiian wedding for January 12, 2019.
"It's not your typical beach wedding. It's so pretty. And it's a private wedding, so not on TV. Just a close group of friends. Probably 100 guests," Arie said of the upcoming Maui nuptials in May. And, no — Becca probably won't be getting an invite, even though she's totally down to attend.
"Our relationship is so unique and it's nothing that I've ever had before and I think it's the same for him too," Lauren also explained on The View when discussing Arie's contraversial decision to explore a future with her despite his engagement to Becca. "The fact that he was willing to take that risk and, I mean, chance of all of America hating him to be with me. That means a lot to me."
If Becca was apparently cool with Arie and Lauren crashing her potential proposal, I guess things are all good between the three of them now. Unfortunately loyal viewers who watched their saga unfold on The Bachelor won't get the chance to see how their Maldives reunion played out. Did Arie give her a pep talk? Did they meet Blake and Garrett and offer their opinion? Did they all go snorkeling? Here's hoping the cutting room floor footage sees the light of day somehow. Your move, Chris Harrison and ABC.