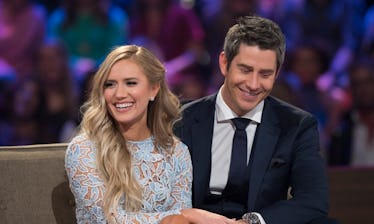 Arie Tweeted Out A 1-Year Anniversary Pic With Lauren & No, I'm Still Not Over It
ABC/PAUL HEBERT
Lauren Burnham and Arie Luyendyk Jr. have been on quite a ride since their time on The Bachelor. The latest season of the show ended just a few months ago (in March 2018, to be exact) and while the two ultimately ended up together, their happy union wasn't without its hiccups. But they're still happy nonetheless, even after going through all the ups and downs of dating on national television. Actually, Arie and Lauren celebrated their one-year anniversary on June 8, 2018. And given the timeline of The Bachelor, that date is leaving fans with a lot of questions.
So, why is their one-year anniversary celebration so curious? Well, if Arie and Lauren met while filming The Bachelor, then they probably wouldn't have started dating before Fall 2017. Apparently, that's when the show was in its earliest stages of production, so if they're celebrating a one-year anniversary, then that means they hoodwinked everyone.
To be fair, The Bachelor did make a minor mention of the two meeting prior to production. Lauren popped out of The Bachelor limo with a framed photo of herself and Arie, so fans definitely had a hint that they'd met before.
But according a March 2018 report from Us Weekly, in which an insider source revealed information about the relationship, the couple didn't get together until appearing on The Bachelor.
Here's what that insider had to say:
Lauren met Arie a long time ago for like 10 minutes at a race in Dallas and they took a photo together. She showed him the picture the first night at the mansion and he was like, 'Oh my gosh I remember you!
Apparently, that was enough to make some sparks fly. And it also gave them both something in common for the show's production.
Us Weekly's insider source explained why Lauren was at the race:
Lauren and her friends went to the races because her friend was watching another guy. They went into the pits and took some photos with Arie and joked around with him. They laughed and talked for a few minutes.
It all makes sense now! Needless to say, though, Lauren and Arie truly hit it off on The Bachelor. They did experience some romantic woes when Arie's ex-fiancée, Becca Kufrin, briefly became the apple of his eye.
But now Arie and Lauren are celebrating a one-year anniversary of sorts. Arie posted the following pic on Twitter:
In the caption, he claimed that he met Lauren exactly a year ago.
"1 year ago I met the love of my life right here at @TXMotorSpeedway. ❤️❤️❤️," he wrote.
Meanwhile, Lauren took Instagram to relay the same exact message:
"Met this stud here exactly a year ago today," she said in the pic's caption.
After seeing the photos and the captions, passionate fans didn't mince their words.
One fan on Instagram explained that fans are angry over the whole thing:
this is why people were so mad. Because she already met him. And I think she gave him a picture of them two together when she got out of the limo, but they didn't show it. Or so I read online!
Another fan expressed their disappointment:
Sorry but I have a whole different opinion now :( I too didn't need to know this kinda like cheating, GO BECCA !
But one fan (among many, actually) was irritated by the hate the couple was getting:
If you all actually watched the show Lauren had mentioned to Arie that she had actually met him before at one if his races. They didn't "know" each other. So quit hating so much on crap you don't even know or next time pay more attention.
Ah, well. Can't please everybody. At least Arie and Lauren are happy!