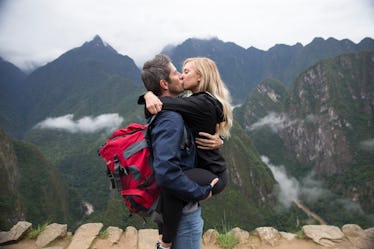 'The Bachelor' Wasn't The First Time Arie Met Lauren B. & We've Got Questions
Ever since she started getting airtime in the second half of this Bachelor season, Lauren B.'s rather dull, muted connection with Arie confused us all. Many of us didn't understand why Arie seemed to go for the quiet, reserved blonde over fun, bubbly Becca K. But on Part 1 of the season finale, Lauren may have inadvertently revealed that the two had a brief encounter with each other prior to meeting on TV. Arie and Lauren B. met before The Bachelor aired, and I'm so confused.
If you recall, Jessica, a contestant cut on the first night of the season, was very open about her dad meeting Arie before. Her story being shared immediately is a typical move within the franchise. Last Bachelor season, Nick Viall was even faced with a contestant he previously slept with after a franchise wedding. The old connection was established right away, and while Arie and Lauren's first meeting wasn't as...intimate as Nick's with contestant Liz, it still would've made their story a tad more interesting if we knew about it from the start.
During their last date in Peru, Arie and Lauren reminisced about the first day of filming The Bachelor. While Arie was fixated on the parade of Laurens during which the reigning Lauren arrived, Lauren was on a whole other planet, telling him:
I can still picture the first day... me walking up to you and you forgetting that you met me in Dallas.
Lauren B. the Second say what?
Now, to be fair, we never saw a full version of Lauren's arrival on Night One. I actually only remember Lauren G., a fleeting presence on both the show and Bachelor Winter Games, joking about Arie meeting a bunch of Laurens before her. Like most of what Lauren B. says, her memory of being with Arie in Dallas came out as a quick mumble, prompting Twitter users to ask if they really just heard that.
Given the following trainwreck that was Becca and Arie's unedited breakup, ABC executive Robert Mills found it wise to step in and explain Lauren's comment. He revealed on Twitter that before Bachelor filming began, Lauren attended a race in Dallas, where she met Arie.
No further details, like when the meeting happened or whether Lauren knew she was competing on the show, were shared. I tried to figure out when Arie's most recent race in Dallas was, but a Google search only brought me articles insisting that Arie actually doesn't have much of a racing career. Still, I wasn't complaining.
Clearly, Mills' explanation wasn't enough for some fans, who took to Reddit to share the results of their internet sleuthing. A few days before the finale aired, the user dancealexturner referenced the ABC photo of Lauren meeting Arie after stepping out of the limo. She presented him with a framed photo that, upon closer look, appears to be the two of them posing together. The Reddit user wrote:
In the first episode Lauren barely gets a limo exit intro and yet there's this pic showing that she brought a framed photo to show Arie. When you zoom in it looks exactly like Arie and Lauren posing for a picture together. Do you think maybe Lauren watched Emily's season and was a huge fan of Arie? It could explain why she has fallen for him so hard if she has had a crush on him for five years.
The fan theory is definitely plausible, especially since Lauren and her family have solidified themselves as golf fans and probably don't keep up with racecar driving. Perhaps Lauren's gesture of coming to one of his races before she even knew him also explains why Arie liked her from the start.
The couple are rumored to be dating after Arie's breakup with Final Rose pick Becca K., but their relationship status has yet to be confirmed to audiences. We'll receive more information about this, and perhaps their real first meeting, on "After the Final Rose."
Part 2 of The Bachelor finale begins on Tuesday, March 6, at 8 p.m. ET on ABC.