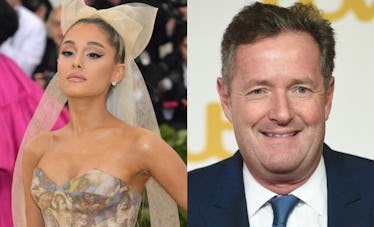 Ariana Grande Dragged Piers Morgan For Criticizing Little Mix's Nudity In The "Strip" Video
Neilson Barnard/Getty Images Entertainment/Getty Images | Stuart C. Wilson/Getty Images Entertainment/Getty Images
Ariana Grande went off on Twitter today. And all because Piers Morgan decided to tweet a few judgmental words about Little Mix. Ariana Grande's tweets calling out Piers Morgan for his criticism of "young, beautiful, successful women" prove she's the feminist celebrity the world needs right now.
So, before I get to Grande's tweets, let me give you some background info first: Little Mix recently released a music video for their single "Strip" and in the video, the group appears nude in attempt to own their physical "flaws." Well, Piers Morgan got a hold of a photo from the video and decided to criticize the group for using nudity to "sell records to impressionable young female fans."
Grande's mother, Joan, chimed in to say that she didn't like what he had to say.
"Honestly what is wrong with you @piersmorgan ?" Grande's mom tweeted. "Didn't your mother ever teach you, if you have nothing nice to say, don't say it! You came for @TheEllenShow yesterday which was disgraceful, she is an angel. @LittleMix today, did you ever hear of paying homage? And..well never mind"
Never one to keep his thoughts to himself, Morgan tweeted Grande's mom back to explain his stance on Little Mix's nudity and that he disagrees with how they market themselves.
"Hi Joan, my mother taught me to speak my mind & never be afraid to express honestly held opinion," Morgan responded. "Ellen's a hypocrite - and as for Little Mix, I'd just prefer they use their talent to sell records rather than their nudity. As your own daughter does...!"
By the way, the Ellen Degeneres reference here is about a tweet Morgan posted calling her a hypocrite.
Here's the Little Mix video that started it all:
In any case, once Morgan responded to Grande's mom, she decided to step in to defend Little Mix as well as herself. She basically wanted Morgan and her fans to know that she makes her own career decisions.
"Ellen is an incredible & kind human being.." Grande responded in a tweet. "I use my talent AND my sexuality all the time because i choose to. women can be sexual AND talented. naked and dignified. it's OUR choice. 🖤 & we will keep fighting til people understand. i say this w all due respect but thank u, next."
But that wasn't all Grande had to say. She also went to say that she hopes he learns to have a more positive mindset about young, successful women. And she also insulted his career in the process.
"Also @piersmorgan, i look forward to the day you realize there are other ways to go about making yourself relevant than to criticize young, beautiful, successful women for everything they do. i think that'll be a beautiful thing for you and your career or what's left of it. 🖤." Grande continued.
Needless to say, Grande doesn't stand down when it comes to feminist issues. She's incredibly outspoken about them, which just proves that she can use her talent, sexuality, and her brain to have a multi-faceted influence on her fans. That's the stuff legends are made of!