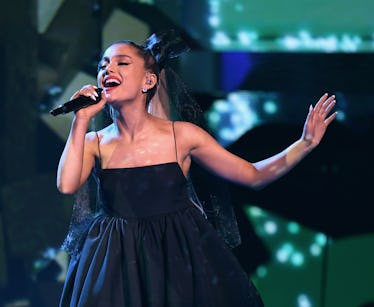 Ariana Grande Dropped A New Song With Nicki Minaj & You Need To Read The Lyrics ASAP
Kevin Winter/Getty Images Entertainment/Getty Images
Ariana Grande just dropped yet another hit single that her fans were anxiously waiting for. The single, entitled "The Light Is Coming," dropped on June 20 and the lyrics are everything. The song tackles some heavy subjects, but that's just what the world has come to expect from Grande. So, what are Ariana Grande's "The Light Is Coming" lyrics all about? Honestly, they could be about so many things, but all signs point to them being about a relationship!
Let's start with the very first verse, which is performed by the one and only Nicki Minaj:
Ay yo, trophy wife, out you won me / Until you had to find out it's one me / Now you benched, aww, your bum knee / Now I'm the bad guy, call me Chun-Li (ooh) / 'Cause you was slippin', yep, you clumsy / And everything I peep, can't just unsee / Sips tea, and it's unsweet / Respect bad gyal when me done speak / Now we shooting the shot like drive-by / Why you had to make me go call up my side guy? / Can't let a f-boy eff up my nice vibes / Yo Ariana, come let me give you a high five
Alright, now to unpack this: Minaj is basically alluding to the disintegration of a relationship and how she had to turn to someone else to get what she needed in terms of love and affection. Why? Because the other dude was screwing up way too much to even be worthy of her attention.
And then comes the chorus (sung by Grande, of course):
The light is coming to give back everything the darkness stole / You wouldn't let anybody speak and instead—
So, who or what is the light? What about the darkness? It's possible that the new guy the light and the old guy the darkness. Or maybe her newfound freedom is the light. Not sure on that front, but it's a deep concept, for sure.
The second verse is pretty lengthy, but Grande goes deep once again. Here's a bit of it:
I've been into you, shit that you've been through / They are so confused, who cares about the rational? / If it ain't your view / That's the bottom line / Know-it-all (know-it-all) / Give you a box of chances, every time you blow it all (blow it all) / As if it was shade, you would just throw it all (throw it all) / It's like you're trying not to glow at all (glow at all) / Know-it-all (know-it-all)
Now, this kind of sounds like she's exploring the beginning of a new relationship as well as the end of another. I'm not going to speculate about whether some of this was written with Pete Davidson in mind (because who knows when this song was actually written), but it seems like love has got Grande a bit tied up. Confused. Unsure of her next step. I mean, Grande did say her relationship with Mac Miller was unhealthy towards the end, and she's super in love now. It may just be about where she's currently at in her life.
Yep, love can be like that sometimes. But as the world now knows, she's got her sights set on marriage, so she's definitely more sure of herself now.
In any case, the depth of these lyrics is genuinely intriguing and leaves you with a lot to contemplate.
Grande's new album, Sweetener, is due out on this summer. Grande actually shared the album art on Instagram. By the way, the album has its very own Instagram account, which is pretty wild. You can almost feel the anticipation building. Bring on Sweetener already!