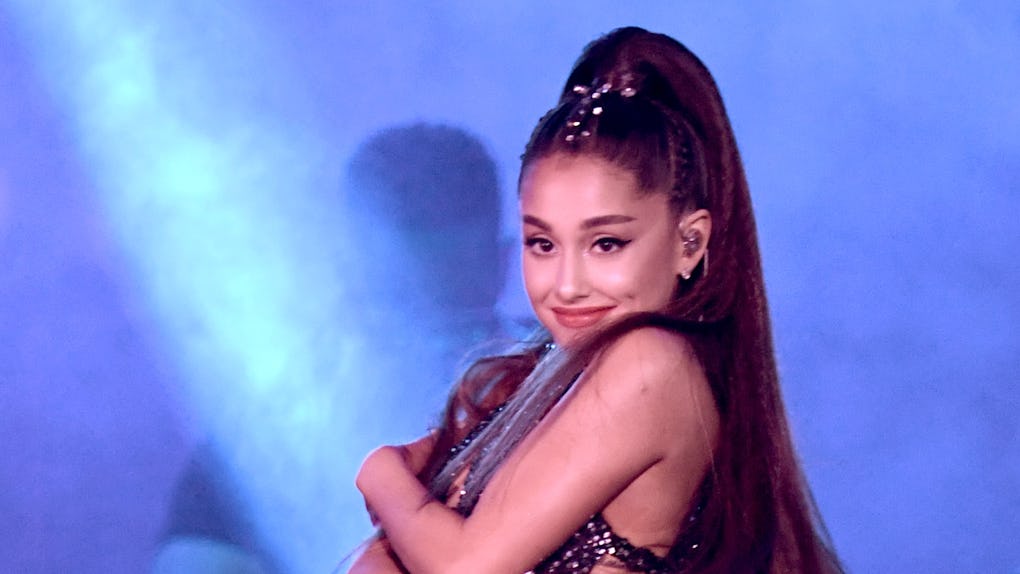 Kevin Winter/Getty Images Entertainment/Getty Images
Ariana Grande's "Raindrops" Lyrics Are Gorgeous, But Fans Are Sad About One Thing
It feels like I've been waiting my whole life for Ariana Grande's "Raindrops" lyrics. Ever since she first announced her new album, Sweetener, on The Tonight Show Starring Jimmy Fallon fans have been dying to learn more. But fans are sad about the fact that... there isn't more than what Grande already tweeted about the song weeks ago. Everyone had their eyes out for references to her old flame, Mac Miller, and people originally speculated this song might be about him. Turns out, they were probably wrong. "Raindrops" is more like an interlude or introduction to the album, based off a song called "An Angel Cried" by The Four Seasons.
The lyrics for the entire song (yes, really) go like this:
When raindrops fell, down from the sky / The day you left me, an angel cried / Oh, she cried, an angel cried / She cried
So, it's hard to tell with such a tiny amount of words if Grande meant this song for anyone. It could definitely be about Mac Miller considering their breakup. But also, it could be about the May 2017 Manchester attack that killed 22 people. Either way, the short song is absolutely gorgeous. The Four Seasons version is two and a half minutes long. I have no doubt that Grande purposely had the song clipped.
Some of the original Four Seasons lyrics go:
The day you left me / An angel cried / The sun had faded and died / No one knew the reason why but me / That cloudy day / You went away / The clouds had filled up the skies / Like the tears that filled my eyes, lonely me / That cloudy day / You went away / Then rain drops fell (rain drops fell) / Down from the sky / The day you left me / An angel cried / An angel cried
Fans on Twitter, though, weren't holding back their disappointment over the song being so short.
Regardless of the brevity of "Raindrops," it has a really special meaning to Grande. During a May trip to The Tonight Show Starring Jimmy Fallon, Grande said after she recorded the song, she learned that her grandfather's best friend wrote the song with The Four Seasons. She said,
We were really close to finishing the album and I had [the song] in my head and I said to Max, I said, 'You know what? Let me just record this little part acapella, let's just go in and do it and maybe we can chop it up and sample it or something, or like, make a beat out of it or whatever.' Anyway, I do it, and Max was like, 'Let's not touch that. Let's just leave it like that.' And so that's how the album starts. And I went to go check to see who wrote it, I was curious, and so it turns out — this is so crazy, y'all are gonna think I'm lying but — my grandfather's best friend who I grew up hanging out with in Boca, Charlie Calello, wrote it with Bob Gaudio from The Four Seasons.
If that doesn't give you goosebumps, I don't know what will. Don't mind me... I'll just be here listening to "Raindrops" four times over and over to make it feel longer in my head.