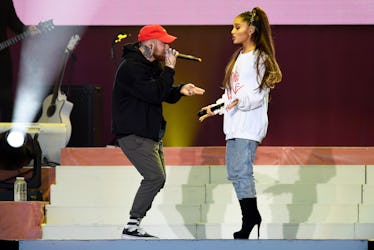 Ariana Grande Posted An Emotional Throwback Of Mac Miller On Thanksgiving
Getty Images/Getty Images Entertainment/Getty Images
Ariana Grande is having a year full of ups and downs. Her album, Sweetener, has garnered near-universal praise from critics. She's finally taken a big step in cutting off her iconic ponytail and changing her look to a new phase. But at the same time, her love life has seen better days, starting from when Grande broke up with Mac Miller back in May. When Miller died of a reported overdose in September, she was devastated. Now, Ariana Grande's post about Mac Miller posted on Thanksgiving day proves Miller may be gone, but for Grande, he's never forgotten.
The end of Grande's relationship with Miller was overshadowed by her whirlwind romance with Saturday Night Live's Pete Davidson. In the space of six months, Grande and Davidson started dating, got engaged, bought a place, and then, before wedding vows could happen, broke up.
But lost among the tabloid headlines was Grande's breakup with Miller represented getting out of a years-long relationship. Miller and Grande were friends for years before they started dating. They originally recorded "Baby, It's Cold Outside" in 2012, four years before the two of them first stepped out together. Relationships like this don't end overnight, and the loss of Miller a few months later is something Grande still seems to be processing.
Check out this image from her Instagram story of the two of them together.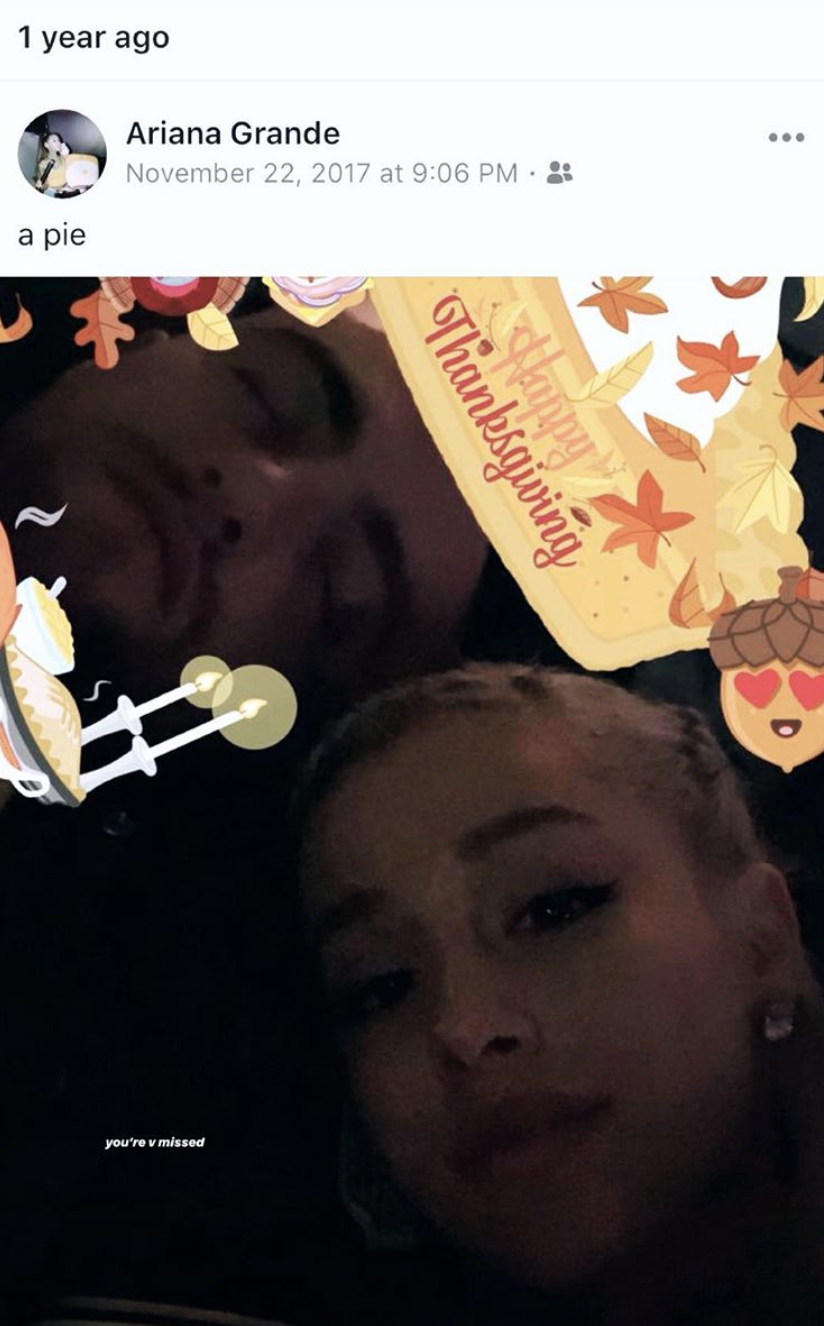 In her Instagram story, Grande emblazoned "you're v missed."
The holidays can be a rough time when they roll around not long after a loved one's death. The emphasis on family, and giving thanks for those who are in our lives can throw into sharp relief the absence of those who are no longer here. Also, recall this time last year, Ariana and Miller were still an item and were heading into Year 3 as a couple.
This isn't the first time Grande's referenced her relationship with Miller recently either. In her latest single, "thank u, next," Grande admits she regrets not getting to let Miller know how much he meant to her before he passed. Check out the first verse:
Thought I'd end up with Sean
But he wasn't a match
Wrote some songs about Ricky
Now I listen and laugh
Even almost got married
And for Pete, I'm so thankful
Wish I could say, "Thank you" to Malcolm
'Cause he was an angel
Here's the Instagram tribute to Miller she posted not long after his passing.
The caption reads:
i adored you from the day i met you when i was nineteen and i always will. i can't believe you aren't here anymore. i really can't wrap my head around it. we talked about this. so many times. i'm so mad, i'm so sad i don't know what to do. you were my dearest friend. for so long. above anything else. i'm so sorry i couldn't fix or take your pain away. i really wanted to. the kindest, sweetest soul with demons he never deserved. i hope you're okay now. rest.
If you or someone you know is seeking help for substance use, call the SAMHSA National Helpline at 1-800-662-HELP(4357).