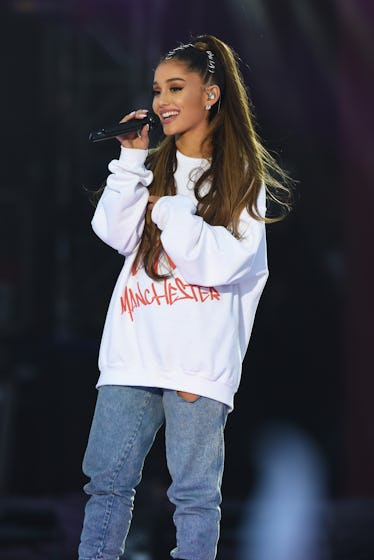 Ariana Grande Is One Of The World's Biggest Stars & Her Net Worth Proves It
Getty Images/Getty Images Entertainment/Getty Images
Ariana Grande is unquestionably one of the biggest pop stars on the planet right now. And you know what? She's filthy rich, too. Yep, the 24-year-old singer is making a fortune and there's no sign of her stopping anytime soon. So, what exactly is Ariana Grande's net worth?
According to Celebrity Net Worth, Grande's net worth sits right around $45 million. Grande, who's been active in the entertainment industry for nearly a decade, has amassed a fortune in a very short amount of time. But how did she do it? The answer to that is actually pretty simple.
Firstly, it's important to consider how multi-talented Grande is. While most people now know her as mainly a singer, they're completely unaware that she was also an actress once upon a time. The "No Tears Left to Cry" singer was once a Disney starlet. As a young teen, Grande was cast as Cat Valentine in the Disney Channel's Victorious. This gig kickstarted her career and she was pretty much off to the races from there.
The show premiered in March 2010 to millions of viewers, solidifying Grande as a teen idol. Over the next several years, Grande was also seen on iCarly, Winx Club, and Sam & Cat. So, it's safe to say she definitely has the acting bug and made it work her for as a teen!
Having been on all those shows really set the stage for Grande to make a huge debut as a solo artist. And that's exactly what she did with her debut album, Yours Truly. The album was released in 2013 when Grande was just 20 years old. The album took the No. 1 spot on the Billboard 200, which further solidified Grande's place in pop history.
Grande released her next album, My Everything, in 2014. That album also debuted at No. 1 on the Billboard 200. So, in just two years, Grande was two-for-two in terms of number one albums. And, as you can probably imagine, that leads to some hefty bucks. But that's not all Grande had up her sleeve.
In 2015, Grande took a recurring role in Ryan Murphy's Scream Queens, which put her back on TV and in a new kind of role that was far removed from her Disney days. Now all grown up, Grande was ready to take on something a little less innocent, which Scream Queens definitely provided.
Then, in 2016, Grande released yet another hit album, Dangerous Woman. The album went to No. 2 on the charts, following a similar path to success as her previous two efforts. So, again, all those album sales and all that success leads to a pretty big pay day, and Grande has definitely enjoyed a few of those.
Grande is set to launch her fourth album some time this summer and her first single off the album, "No Tears Left to Cry," is already making waves.
Other than incredible album sales and TV gigs, going on tour really helps line Grande's pockets. Grande's Dangerous Woman tour alone scored a whopping $71 million in ticket sales. So, just imagine how much she was raking in during her other tours! And then, of course, there's Grande-branded merch to consider. I'm sure all her fans scooped up T-shirts, posters, and so much more during the tour.
All that said, Grande is clearly paving a way for herself in the music industry. The fact that she's worked non-stop and pushed her net worth to $45 million in just a few years proves that she's earned her icon status. She's a genuine talent and she's super smart about how she's handling her business. Get that money, girl.