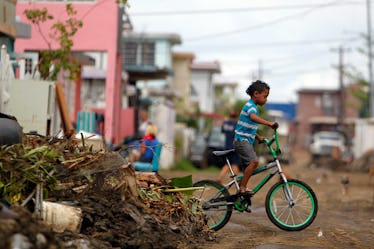 Puerto Rican Kids Are Finally Going Back To School, But The Island Is Still In Bad Shape
RICARDO ARDUENGO/AFP/Getty Images
Over a month after Hurricane Maria made landfall in Puerto Rico, causing mass power outages and forcing many into homeless shelters, some of the island's youngest people will now be able to resume their education. On Tuesday, Oct. 24, schools will open in Puerto Rico's capital, San Juan, and another region, Mayaguez, a municipality with a population of over 8,000. Other schools, in the meantime, will continue to serve as shelters until further notice.
A week before Tuesday's re-opening of schools, Puerto Rico Education Secretary Julia Keleher said, per CNN,
Schools are open as community centers around the island. This allows families to return to work and assures our children and members of school communities have access to a warn meal.
She also said that other regions on the island would see schools re-open at the end of the month, adding, per CNN,
Once we are certain that our students are safe, we will continue to open school.
According to the Washington Post, classes are resuming at 119 campuses across San Juan and Mayaguez, which amounts to about one-tenth of all of Puerto Rico's public schools.
Furthermore, Tuesday marks the first day since Hurricane Maria hit Puerto Rico that any school on the island will accomplish a full day of class, according to the Post, which also reports that some of the school still don't have electricity, despite re-opening.
Education Secretary Keleher said,
We want to try to bring the maximum benefit to the maximum number of students while protecting their safety and well-being.
According to the Washington Post, Puerto Rico operates a total of over 1,100 public schools that teach nearly 350,000 children.
That schools are re-opening without electricity reflects the extent to which much of Puerto Rico is still going without power, due to the effects of both hurricanes Irma and Maria.
On Monday, USA Today reported that 75 percent of the island does not have electricity. One souvenir shop owner in Puerto Rico told the paper how the conditions are affecting the island's businesses, saying,
Nowadays businesses run with the rising sun and close as soon as whatever they have runs out, or they don't open at all. Now a business of my caliber, which depends on tourism, is completely affected. It's on total shutdown.
The subject of Puerto Rico's recovery from Hurricane Maria, and the pace of that recovery, has been the subject of headline news since the storm touched down on the island in September.
The federal government has since faced scrutiny over whether it was doing enough to help the island. However, when asked last week about the enormity of the task of aiding Puerto Rico, President Donald Trump told reporters that his administration had earned a 10 out of 10 rating. With Puerto Rico Gov. Ricardo Rosselló by his side, Trump said at the White House,
It was probably the most difficult when you talk about relief, when you talk about search, when you talk about all the different levels. Even when you talk about lives saved. I think it was worse.
During his visit to the White House, Gov. Rosselló complimented the Trump administration's response to Puerto Rico's need, but warned that the island still needed massive amounts of help.
The governor said,
In these emergencies, things might have the appearance that they are stabilizing at one point, but you always have future problems that can arise such as public health emergencies and otherwise.
While Rosselló warned about more complications in Puerto Rico, there's a least good news on Tuesday. Some of the islands schools are re-opening, over a month after being forced to close.