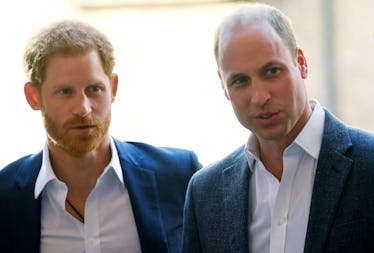 Prince William & Prince Harry Are Reportedly Growing Apart In A Surprising Way
WPA Pool/Getty Images Entertainment/Getty Images
Is a "royal division" coming to the royal family sometime soon? Well, according to a new report from Sunday Times, Prince William and Prince Harry may be pulling away from each other. And that's prompting fans of the royal family to ask one important question: Are William and Harry still close? They definitely are, but since their individual families are growing, they're considering a break in their joint working situation. The reason? Each of the brothers and their respective wives have different interests and they'd like to be able to explore them separately, at least according to Sunday Times' new report. Elite Daily reached out to Kensington Palace for comment on the reports, but did not hear back at the time of publication.
According to Sunday Times, the Dukes of Cambridge and Sussex are considering what's being called a "royal division" of their Kensington Palace household. While fans are enthusiastic about the "fab four" — William, Duchess Kate, Harry, and Duchess Meghan — a royal division could likely mean fans will see less of them together in public. According to sources close to the situation, William and Harry will have separate staff and offices, but still be in constant communication with one another.
A source for Sunday Times explained why this approach is necessary now, especially since Prince Harry is newly married.
"There is a gulf in the style and approach to the type of work that William and Kate will increasingly do as future head of state and consort, and Harry and Meghan, who have more of a blank canvas with their roles," the source explained. "William and Harry's double act has naturally been supplanted by the two couples and their families… They have become different people with different outlooks on life. Splitting the household is the obvious thing to do."
On Oct. 31, Vanity Fair published a report in which royal author Sally Bedell Smith revealed that the addition of Meghan to the royal family has changed the way the royals operate.
"I had heard that a division might be in the cards, and that it had a lot to do with Meghan — not in a negative way, but that Meghan and Harry's interests were moving in different directions [from William and Kate's]," Bedell said. "This is a recognition that their roles are going to diverge in the future. William is heir to the throne and second in line to the crown. Harry is sixth, and is going to slip further down. It's sad to see the team break up, but I think this was always inevitable and probably makes sense. The Fab Four was a nice construction, but they will only appear as a foursome from time to time."
And that makes perfect sense, especially since William and Harry have basically been attached at the hip all their lives. Prince Harry is about to embark on his journey as a first-time dad and Prince William is going to be heir to the throne one day. Those two considerations, I think, are more than enough for the brothers to go their separate ways in terms of royal duties. It just shows that they're thinking of the future which is a very reasonable and responsible thing to do!