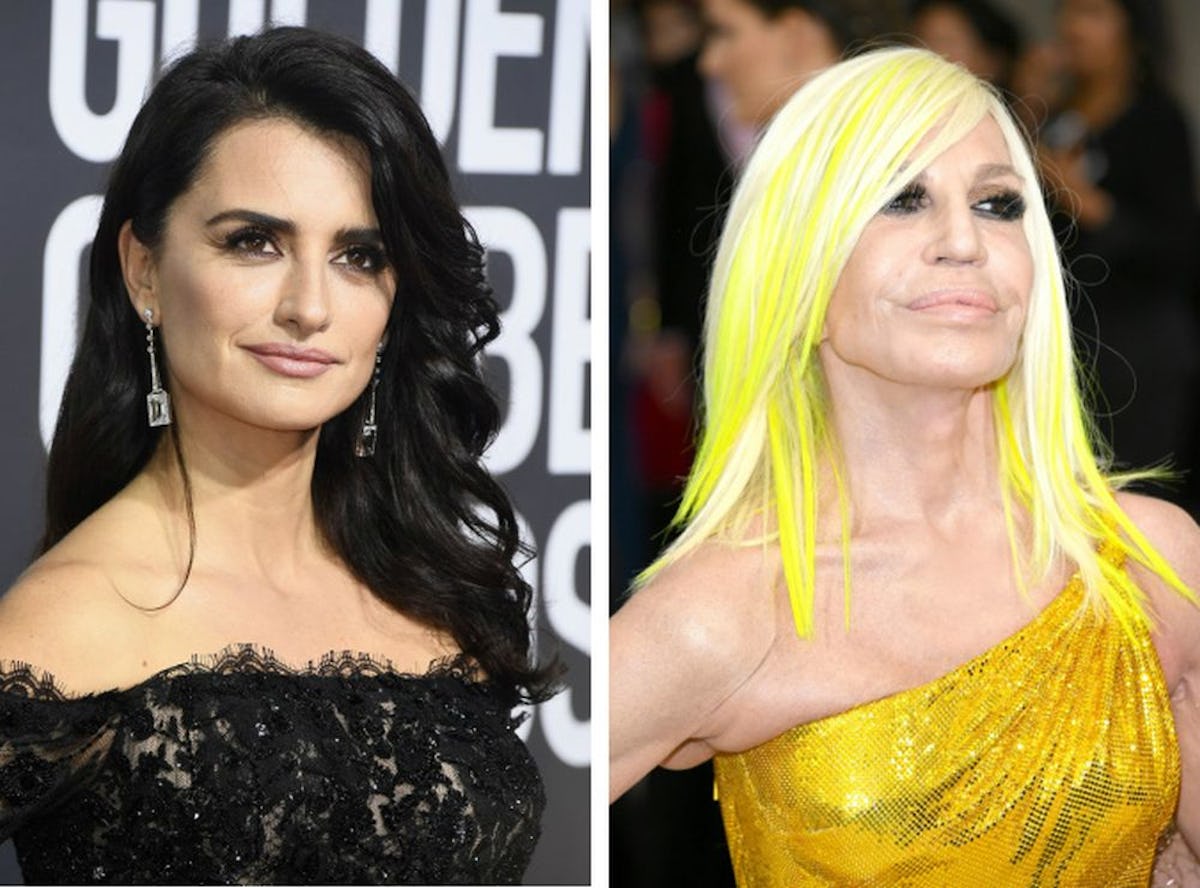 Penelope Cruz Reveals What She Did Before Agreeing To Play Donatella Versace
Frazer Harrison/Dia Dipasupil/Getty Images
We're only on Season 2 of American Crime Story, but the series already has a lot to live up to. Not only is it part of the Ryan Murphy empire, following in the footsteps of the über successful American Horror Story, but it's also following its own Season 1. The People v. O. J. Simpson: American Crime Story was a critical darling, taking home a slew of Golden Globes and Emmy Awards. Season 2 will be The Assassination of Gianni Versace: American Crime Story, and fans want details. Are star Penelope Cruz and Donatella Versace friends? Cruz plays the famed designer in the series, the head of the fashion empire her late brother left behind.
Before going further, it should be noted that Versace was not originally slated to be the second season of American Crime Story. The production's original conception was to go hard into the political waters (as American Horror Story just did this last season) and focus on the aftermath of Hurricane Katrina, sourcing their work based on the book Five Days at Memorial: Life and Death in a Storm-Ravaged Hospital by Sheri Fink. Due to scheduling issues, Katrina could not start production until 2018, causing the show to flip the seasons around.
But weathering production issues wasn't the only problem this series has faced. Unlike re-staging the O.J. Simpson trial, which was a very public and well-documented event, the death of Gianni Versace is an altogether different beast. The family of Nicole Brown Simpson, for instance, wanted her death (and O.J.'s acquittal) pushed in the public eye as much as possible, both for the justice and for the cautionary tale aspects. While there were those who perhaps weren't totally happy with the series portrayal, they were drowned out by those who supported it.
Not so with this one. The Versace family has already gotten out in front of the series before it debuts on Jan. 17, decrying it as "a work of fiction" and denouncing Murphy and company for dragging their family name through the mud.
Speaking to Deadline, the Versace family said:
The Versace family has neither authorized nor had any involvement whatsoever in the forthcoming TV series about the death of Mr. Gianni Versace. Since Versace did not authorize the book on which it is partly based nor has it taken part in the writing of the screenplay, this TV series should only be considered as a work of fiction.
Unlike the Browns, the Versace family is also extraordinarily powerful in their sphere of influence in the fashion world. Their brand was one well-represented at the Golden Globes on Jan. 7, and will be again across the red carpet for the rest of awards season. When they announce they did not authorize the show to do a dramatization of any of this, it carries weight.
FX insists they stand by their sources.
Like the original American Crime Story series The People Vs OJ Simpson, which was based on Jeffrey Toobin's non-fiction bestseller The Run of His Life, FX's follow-up The Assassination Of Gianni Versace is based on Maureen Orth's heavily researched and authenticated non-fiction best seller Vulgar Favors which examined the true life crime spree of Andrew Cunanan. We stand by the meticulous reporting of Ms. Orth.
So, where does this leave the stars of the series? Most importantly, Penelope Cruz, who has been a Versace client and a friend of Donatella's over the decades? Cruz claims that this will not affect their friendship, and that Donatella approved of her taking the role before she agreed to it.
Speaking to Entertainment Tonight, Cruz said:
When Ryan [Murphy] told me, I said to him, 'This sounds really interesting, but I have to make this call and I have to talk to Donatella.' I called her and we spoke, like, for an hour. I needed that conversation to say yes. It was a conversation where, I cannot share everything we talked about, but we have a good relationship... She's such a loving person, so I wanted to put out there the love and respect I have for her. It's in my performance for sure, and I hope that when she sees, she will be happy about it.
The Assassination of Gianni Versace: American Crime Story airs on Wednesday, Jan. 17 at 10 p.m. ET on FX.