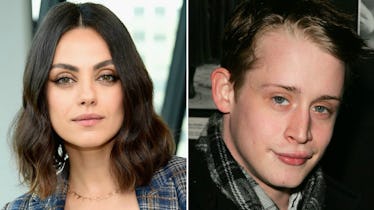 Everything Mila Kunis Has Said About Macaulay Culkin Says Something About Their Relationship
Dimitrios Kambouris/Getty Images Entertainment/Getty Images | Peter Kramer/Getty Images Entertainment/Getty Images
Once upon a time, Mila Kunis and Macaulay Culkin were kind of an "It" couple... in a thespians-we-admire kind of way. They were both full of youth, life, and talent, and it seemed like they had the world at their fingertips. That was, at least, until they broke up almost a decade ago. While many Hollywood breakups are forever, fans couldn't help but wonder if Kunis and Culkin would eventually find their way back to each other. Now that it's been so long since they were together, fans are now wondering something else: are Mila Kunis and Macaulay Culkin still friends? Unfortunately for the die-hards out there, that's probably a no.
Kunis has been opening up quite a bit lately about her past relationship with Culkin. And a lot of what she has to say is not positive at all.
On a recent episode of WTF With Marc Maron, Kunis revealed that she and Culkin are definitely not as friendly they could be. She also said that their relationship took a turn they couldn't recover from:
We're probably not as friendly as we could be, no. There are too many aspects of it that just prevented us from ever moving forward from the past. We dated from when I was, like, 18, 19 until 25ish.
Kunis also revealed some juicy details about the breakup on Dax Shepard's podcast Armchair Expert. During their discussion, Kunis revealed that she was the cause of the breakup and what she did in the wake of it wasn't cool at all:
And it's f*cked up what I did. It's f*cked up what I did and it's f*cked up how I did it. When I got to be single I said, 'I just need to figure myself out.' I genuinely need to know why I did what I did, and, like, regroup myself as a human being.
The 34-year-old actress also owned up to the fact that youth and immaturity played a part in her poor decision-making, especially in her relationships:
I f*ked up. I was an a**hole in my 20s and I'll be the first to admit it. And that's kind of something that took me a long time to come out and be like, 'Yeah, you know what? I was a d**k,' and accept it. And I own it now.
Yikes! Sounds like that whole part of her life was a nightmare she doesn't want to relive. But, at the very least, she owned up to her bad behavior.
When discussing the breakup, Kunis implied that her and Culkin's mutual friends weren't happy with how she handled things. But in the years since, they've forgiven her for whatever she did:
You know, it's been so long like I feel like enough time has gone by. I think enough mutual friends have been like, everybody kind of forgave everybody for what went down.
It's good to hear that everybody in that situation matured and moved on. As you probably already know, Kunis is now married to Ashton Kutcher and has two children with him. Culkin, on the other hand, is dating former Disney Channel star Brenda Song.