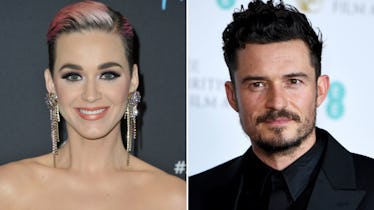 Fans Think Katy Perry & Orlando Bloom Are Back Together Because Of This Clue
Allen Berezovsky/Getty Images Entertainment/Getty Images | Jeff Spicer/Getty Images Entertainment/Getty Images
Who knew American Idol could be the source of some juicy celebrity gossip? Well, as far as Katy Perry is concerned, the reality singing competition is all about hot gossip. And she revealed a bit about her and Orlando Bloom during a recent Idol-related interview. So, are Katy Perry and Orlando Bloom back together? They could be, if you're reading the clues right!
In an interview with ET's Lauren Zima, Perry and her fellow Idol judges, Luke Bryan and Motown legend Lionel Richie, somehow managed to broach the topic of dating contestants. Kind of an odd topic for an interview, especially when you consider the power dynamics at play there, but the Idol crew ran with it.
They ran with it so much, in fact, that Bryan even ventured to say that Perry would absolutely date a contestant on the show.
"Yes, Katy's like that," Bryan said jokingly. "She totally could."
And that's when the possible Orlando Bloom moment happened. To defend herself, Perry responded with:
No, I'm sorry I have been spoken for and speak for myself. And I'm very happy!
Spoken for, huh? That definitely sounds like she's involved with someone. Elite Daily has reached out to Perry's and Bloom's teams for comment on these reports, but did not receive a response by the time of this publication.
To clarify Perry's statement, the interviewer asked if she was a "Mrs. Broom," in reference to a recent post Perry made on Instagram. The post shows Perry holding up a drawing of Bloom holding a broom. The caption on the photo? "Orlando Broom."
Perry, of course, said she wasn't "Mrs. Broom," but didn't let the moment pass without first winking at the camera. Even Lionel Richie was shocked at that one.
So, what's the verdict here? The world will just have to wait and see! But it's very possible that a reconciliation between Perry and Bloom is currently in the works.
All that said, though, this isn't the first time Perry has hinted that there are still some feelings between her and Bloom. Back in March 2018, Perry left a rather flirtatious comment on one of Bloom's Instagram pics in which he appears shirtless.
"Oh hey! I was actually looking for a washboard to do my laundry on," Perry wrote.
Flirtatious, indeed. Wonder what Bloom thought of it, especially if they really aren't back together. Perry, 33, and Bloom, 41, split in February 2017 after a year of dating.
Despite the breakup, a source told ET in February 2018 that the two celebs have been trying to rekindle the romance and give it a second chance:
The time they spend together alone is a way for them to build a new healthy relationship that is not under the eyes of their fans and the world. They both live very busy lives and have carefully made a plan to give their love a second chance.
Clearly, there's a lot of love between Perry and Bloom. They seem to respect each other and that they may be trying to give love another chance is really heartwarming.
Perry and Bloom initially started dating in 2016. They hit it off at the Golden Globes and then spent the next year navigating love and romance together. While their split was amicable and seemed to be linked to Bloom's need to branch out, there were few indications that he and the singer were on bad terms.
And now it's looking like they might be on the fast track to romance once again, which is so great. It's couples like these, who handle their ups and downs maturely, that give the romantics hope!