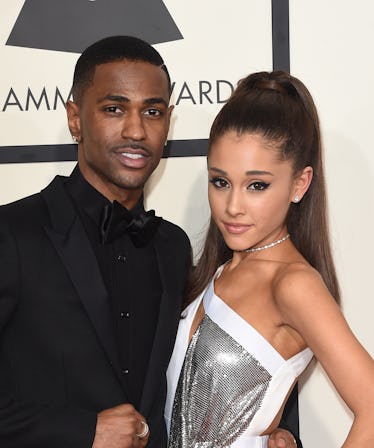 Here's What We Know About Ariana Grande's Relationship With Big Sean After Their Breakup
Jason Merritt/TERM/Getty Images Entertainment/Getty Images
It's been a few years since Ariana Grande and Big Sean were a couple. And in that time, Grande has definitely moved on a few times over with people like Mac Miller and Pete Davidson. But a new song from Grande called "Thank U, Next," in which she recounts her relationships and talks about what she's learned from them, has fans questioning all sorts of things. For example: Are Ariana Grande and Big Sean still friends? Well, even if they're not friends, they're definitely friendly.
See, before Grande released "Thank U, Next", she apparently let Big Sean hear the song. That points to them being friendly, right? Just to refresh your memory, here are the lyrics in the song where Grande mentions Big Sean.
Thought I'd end up with Sean / But he wasn't a match / Wrote some songs about Ricky / Now I listen and laugh / Even almost got married / And for Pete, I'm so thankful / Wish I could say, "Thank you" to Malcolm / 'Cause he was an angel
Then she goes on to say what she learned from each relationship:
One taught me love / One taught me patience / And one taught me pain / Now, I'm so amazing / I've loved and I've lost / But that's not what I see / So, look what I got / Look what you taught me / And for that, I say
So, Grande paid homage to Big Sean in a really sweet way with her song. And that makes sense because Grande's Apr. 2015 split from Big Sean was relatively amicable. At the time, sources cited touring schedules as the reason behind the split, so it's not like there was a huge blow-up and they split because of it. Not to mention the fact that their statement announcing the breakup said they still remained friendly even after their romantic relationship didn't work out.
"They both care deeply for each other and remain close friends," the 2015 statement read. "We kindly ask that the media respect their wish for privacy regarding this personal matter at this time."
In a May 2016 interview with Billboard, Grande opened up about what she learned from the relationship and from the split. And most of that was tied to how the media portrays successful men and women. Apparently, the tabloid coverage of her split with Big Sean really got under her skin a bit.
"I'll never be able to swallow the fact that people feel the need to attach a successful woman to a man when they say her name," she said, referring to another celebrity's relationship. "I saw a headline — draw your own conclusions [on the subjects] because it'll be so much drama that I don't want — they called someone another someone's ex, and that pissed me off. This person has had so many great records in the last year, and she hasn't been dating him forever. Call her by her name!"
If that's the worst she came away from the relationship with, then I think it's safe to say that Grande doesn't hold on to any bitterness. Plus, she seems to always maintain good relationships with her exes anyway, so I'm sure she has friendly exchanges with Big Sean in the same that she has them with Ricky Alvarez and all the rest of her exes.
This article was originally published on