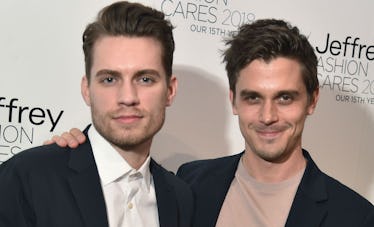 Queer Eye's Antoni Porowski Reportedly Split From His Boyfriend Of 7 Years, So Love Is Dead
Stephen Lovekin/WWD/Shutterstock
We've had our fair share of traumatic breakups recently (and yes, I'm absolutely categorizing Chris Pratt and Anna Faris as "recent" so don't @ me), and it's been pretty rough trying to feel as though love is still alive and well. And some news today has made me come to the conclusion that, unfortunately, love has been canceled. It's officially dead. You can all go home now. If you're wondering why, it's because Queer Eye's Antoni Porowski broke up with his boyfriend of 7 years, according to reports. Honestly, if they can't make it, who the hell can? Elite Daily reached out to Porowski's team for comment on the report, but did not hear back by the time of publication.
According to Us Weekly, a source close to Porowski confirmed that he and his longtime boyfriend, Joey Krietemeyer, split up a few months back.
"Antoni and Joey broke up two months ago," the source told the publication, adding, "It was very amicable. They're still friends. It was a clean split."
Just because it's a clean break doesn't mean that my heart hasn't been shattered into a million tiny pieces.
But, despite the breakup, the 34-year-old Queer Eye star is reportedly doing well. Co-star Karamo Brown spoke with Us Weekly at the Angel Ball in New York City on Monday, Oct. 22., saying, "Antoni's just happy in his life. He deserves all the happiness in the world. People don't realize what a sweet, empathetic person he is. So I just love that he's happy."
Damnit, Karamo! I'm trying so hard not to be reduced into a puddle of my own tears. And yet, here we are.
As if you didn't feel personally destroyed enough, an interview from February 2018 with Vulture magazine revealed that Porowski was "basically married" to Krietemeyer and also credited him with helping him come out to his family.
Insert heavy sob here.
"[My father] made a comment driving me to the airport that I certainly lead a very discreet life," Porowski told GQ magazine about coming out to his father. He continued, saying,
I'm on the plane on the tarmac like, 'Well, if the plane crashes, I'm going to die and he's never going to know.' I decided to send him an email. Because I was living with Joey, my boyfriend now, I wrote my father a very short email: 'You brought this up. I think it's time I tell you: I love. I am loved. His name is Joey, and we live together.' That was it.
He continued, telling the magazine, "My sexuality's something that's intimate. It's not anything that I'm ashamed of. I don't know many people who have a path similar to mine, so I've always been a little more reticent to be as open about it. I'm also not somebody who talks about sexuality that much. I'm a little old school in that sense."
No matter what, Antoni, we love you and we just want you to be happy.
If you ever need someone to vent to over a nice bowl of guacamole, you know who to call.