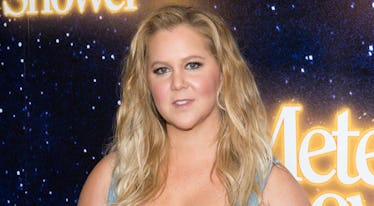 Amy Schumer's Next Movie Is An Intense Biopic, So She's Leaving The Jokes Behind
Noam Galai/Getty Images
Amy Schumer is one of the most famous comedians in showbiz right now, but she is leaving the jokes behind for her next film role: a gritty drama about the world of professional boxing. Although Schumer is best known for her explosive stand-up sets and starring in blockbuster comedies like Trainwreck and Snatched, the actress will be flexing her dramatic muscles more than ever before as the lead in an upcoming biopic about the boxer Christy Martin. Amy Schumer's next movie Christy Martin will definitely show fans a whole new side to the actress.
According to Deadline, Amy Schumer is currently in talks to play the former world champion boxer Christy Martin in a biopic of the same name. Martin is credited as the most prominent female boxer in the United States, and considered the driving force in putting women's boxing on the map in the mid-'90s.
Known by the nickname The Coalminer's Daughter within the boxing world in reference to her father's profession, Christy Martin rose to prominence in the '90s, and became the women's lightweight champion of the world in 1996. She continued to defend her title and her role as the preeminent female boxer in the U.S. until rising star Laila Ali managed to KO her in 2003. Martin took on less matches after that, and finally retired from boxing in 2012 at the age of 44.
In addition to Christy Martin's prominence in the boxing ring, the upcoming biopic will also focus on her tumultuous personal life. As she was first gaining traction in her boxing career, Martin married trainer James Martin. Reportedly, James was a controlling and abusive husband to Christy, and later in life, Christy decided to leave James for her female lover. This led James to stab and shoot Christy, leaving her for dead, in 2010, according to the Orlando Sentinel. Luckily, Christy survived the attack, and James was sentenced to 25 years in prison. She is now married to the woman she was leaving James for, and goes by her maiden name, Christy Salters.
Clearly, this biopic is no laughing matter, which is why Amy Schumer is a bold choice to take the lead role of Christy Martin. Schumer is best known for her brazen, irreverent brand of comedy, which made her a household name following the success of her sketch series Inside Amy Schumer and her first big movie Trainwreck. Interestingly enough, Schumer's other recent role is also a straight drama: She had a supporting part in last year's war drama Thank You For Your Service. But still, Christy Martin will definitely be a landmark moment in Schumer's career, with the potential to prove her chops as a major dramatic actor.
The new project will follow Amy Schumer's upcoming release, I Feel Pretty, a comedy in which Schumer stars as a woman struggling with self-esteem issues who magically gains the confidence of the most beautiful woman in the world. The movie also stars Michelle Williams, Emily Ratajkowski, Aidy Bryant, and Naomi Campbell.
Christy Martin is written and directed by Katherine Fugate, who is best known as the creator of the Lifetime series Army Wives. Fugate also penned the scripts for Garry Marshall's holiday movies Valentine's Day and New Year's Eve.
The content of Christy Martin feels somewhat similar to last year's breakout biopic I, Tonya, which also followed a woman athletic phenom who came from rough beginnings and dealt with an abusive marriage throughout her rise to fame in the world of athletics. That biopic earned its star Margot Robbie an Oscar nomination; it will be interesting to see whether or not Amy Schumer's big dramatic turn can result in similar success. A premiere date for Christy Martin has yet to be announced.