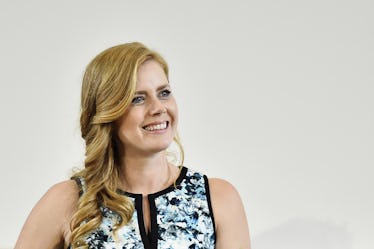 Amy Adams' 'Sharp Objects' Teaser Is Here & It Will Give You Goosebumps
Stefania M. D'Alessandro/Getty Images Entertainment/Getty Images
I'm still waiting for the day that people recognize Amy Adams as the female Leonardo DiCaprio when it comes to Oscar nominations, but it looks like she has an Emmy nomination in her future instead. Adams is starring in HBO's limited series adaptation of Gillian Flynn's book Sharp Objects, which is definitely not as warm and fuzzy as Adams' breakout role in Enchanted. To see for yourself, Amy Adams' Sharp Objects teaser is here and I'm already worried about having nightmares.
As Gone Girl author Flynn's 2006 debut novel, Sharp Objects follows journalist Camille Preaker (Adams) as she returns to her hometown of Wind Gap, Missouri, to cover a series of murders that took place there. Camille arrives home after spending time in a psychiatric hospital, now left to deal with her mother and half-sister at home. Set to premiere in July, the series also features Patricia Clarkson as Camille's complicated mother Adora, a composed socialite, and newcomer Eliza Scanlen as her spoiled half-sister Amma.
Giving us major Gone Girl vibes, the Sharp Objects teaser offers little explanation about the series's deeper plot, but Adams' name isn't the only worthy one included. The series comes from Get Out producer Jason Blum, who is also producing the adaptation, and Big Little Lies Season 1 director Jean-Marc Vallée, who sits in Sharp Objects' director chair after not returning for Big Little Lies' surprise second season. I wouldn't be shocked if Sharp Objects follows suit and launches an original season of its own, but let's get through the initial season first.
Adams is also serving as an executive producer on the show, speaking to the New York Times about the dual responsibilities she faced on the Sharp Objects set.
It's just an intense experience. And especially when you're working every day of production, all day every day, in a dark character, and then trying to manage the other stuff — for me it was challenging.
According to Deadline, the cast also includes The Mindy Project's Chris Messina, Weeds actress Elizabeth Perkins, and Matt Craven. The series will run for eight episodes, but seeing as this year's Emmys nominations are announced on July 12, Sharp Objects won't be eligible for that particular award show until 2019. Perhaps we'll still see it sneak its way into the list of nominees for next year's Golden Globes or SAG Awards.
Although it's bound to run into plenty of Gone Girl comparisons, Sharp Objects is already differentiating itself from the Oscar-nominated film. While the two works are obviously in different mediums, Flynn wrote the screenplay for the Gone Girl adaptation, while UnREAL executive producer and writer Marti Noxon has adapted Sharp Objects for TV. Noxon also created the series and serves as its showrunner. Clearly, the only true similarities between these projects is the creator of their source material, and I'm excited to see how Sharp Objects plays out differently from the making of Gone Girl.
Anyone who has read the book knows why its title is Sharp Objects, but those watching the teaser blind to the original story should be warned that it's not exactly the most chipper story. If you thought Big Little Lies was intense, Sharp Objects is set to be that series' much more intimidating older sister. Before we have the story's brutal twists and turns to delve into, there is Adams' return to TV to look forward to. Before she made her mark in the film industry, Adams played Jim's short-lived girlfriend Katy on The Office before Jim and Pam became everyone's fictional couple goals. She had a smattering of other TV roles, but Sharp Objects is the first TV project Adams has done with her name carrying the weight it does. Amy, you may not have an Oscar to put on the mantle yet, but dust off a spot for that Emmy!
Sharp Objects will premiere on HBO in July.