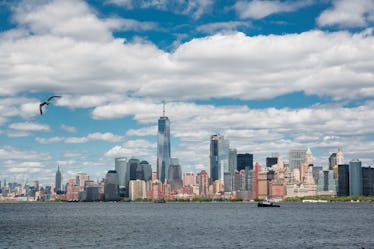 You Can Travel To NYC for $19 During Amtrak's Holiday Travel Flash Sale
September is almost over and that means the holiday season will soon be upon us. It's never too early to start thinking about booking your holiday travel plans back home to spend the time with family or to celebrate with good friends. Thankfully, Amtrak's Northeast Holiday Travel sale is going on now to help you save up to 30 percent on train tickets.
The three-day flash sale began on Tuesday, Sept. 25 and ends on Thursday, Sept. 27, according to Amtrak. There are super cheap deals to be had all across the Northeast Corridor with prices starting at $19 for a one-way Couch Class fare. Routes include Washington D.C. to Richmond, Virginia and New York City to Philadelphia starting at $19 on the Northeast Regional train service. Keep in mind that you cannot upgrade to Business Class or First Class if you purchase a ticket during Amtrak's Northeast Holiday Travel sale.
Other popular (and budget-friendly) itineraries will cost you a little more, but not much. You can travel in either direction between the following cities for $29 on Amtrak's Northeast Regional train:
Boston to New Haven, Connecticut
Baltimore to Philadelphia
Washington D.C. to Philadelphia
Philadelphia to Washington D.C.
Boston to New York City
If none of those destinations are on your holiday travel list, check out these other options. These will cost you slightly more at $39, but it's still a great deal when you think about the overall cost of a plane ticket. Travel is valid in either direction between these cities, as well.
Boston to New York City
New York City to Wilmington, North Carolina
Boston to Stamford, Connecticut
New York City to Providence, Rhode Island
New York City to Washington D.C.
If you're eyeing the Acela train, which travels at speeds of up to 150 miles per hour, transit to and from these cities will cost you between $69 and $115. Amtrak also offers free Wi-Fi, so you can catch up with work or your favorite shows while you're on the go. There's no need to leave your four-legged friend behind, either. Amtrak allows passengers to bring small pets on many of its trains. Check Amtrak's pet policy before you go.
There are a few advantages to train travel. The biggest one, in my opinion, is that you can dodge traffic and busy airports. According to the American Automobile Association, 97.4 million Americans hit the roads during the 2017 holiday season. Another 6.4 million people traveled by plane during the holiday hustle. There's nothing worse than sitting in a traffic jam on Interstate 95 (or anywhere around town, really) when you're trying to get home for the holidays. For comparison's sake, only 3.6 million people traveled by train, bus, rail, and cruise ships.
Oh, and let's not forget just how affordable train travel is compared to taking to the skies. According to SkySkanner.com, the average cost of a flight was $910 roundtrip during the 2017 Christmas season. Again, you can score a one-way ticket for under $20 during this Amtrak sale.
Unlike traveling by plane, where you're often nickel and dimed for every piece of luggage you bring, Amtrak allows you to bring up to four bags onboard free of charge. Train travel is definitely the way to go, IMO.
Amtrak's Northeast Holiday Travel sale is almost over, so if you plan on booking a ticket do it ASAP. Just keep in mind that seating is limited and travel dates and times are subject to availability.