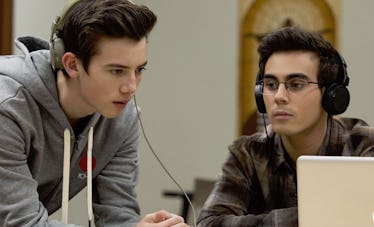 'American Vandal' Has Been Canceled By Netflix, But There's Still Hope For A Season 3
Netflix
Peter Maldonado and Sam Ecklund's investigative documentarian days have unfortunately come to an end. After two season of dissecting the hyper-specific habits and lifestyles of Generation Z high schoolers, American Vandal has been canceled by Netflix, the Hollywood Reporter confirmed. Although it sounds like the end for American Vandal, there actually could still be hope for the beloved mockumentary series to continue on another network.
Reportedly, American Vandal's producers are now shopping the third season of the show, which has apparently already been conceived, to other networks. There is no word yet on where American Vandal might land after Netflix, but hopefully the spoof series will be able to find another home.
Netflix's unexpected cancellation of American Vandal came as a shock to fans of the show as well as TV critics, since the show received surprisingly rave reviews from critics for both of its seasons. At first glance, the debut season of American Vandal seemed like it would just be one low-brow penis joke stretched out over eight episodes, but the true crime parody surprised viewers by turning a mystery about crude graffiti into a multi-faceted deep dive into the lives of modern teenagers and the true crime boom in media. The show's first season holds an impressive 98% on Rotten Tomatoes, and its recently premiered second season lived up to the first with a 97% score on Rotten Tomatoes. Season 1 even got a surprising Emmy nomination for its writing at this year's ceremony, but lost the award to Black Mirror.
This cancellation comes a little over a month after Netflix premiered the second season of American Vandal in mid-September. Season 2 solidified that American Vandal was going to be an anthology series, with high school documentarians Peter Maldonado (Tyler Alvarez) and Sam Ecklund (Griffin Gluck) investigating a different silly-sounding-but-super-serious misdemeanor in each new season. In Season 2, Peter and Sam stepped away from the public school setting of the show's first season and delved into the world of a private Catholic high school, at which a mysterious culprit had been tormenting the students with poop-related pranks.
American Vandal is the latest casualty in Netflix's recent string of surprising cancellations. In recent weeks, the streaming service has also announced that it had axed two of its Marvel shows — Iron Fist and Luke Cage — along with its freshman sitcom All About the Washingtons. Earlier this year, Netflix put an end to a bunch of other original series as well, including Unbreakable Kimmy Schmidt, Everything Sucks!, Seven Seconds, Disjointed, and Lady Dynamite.
As for why American Vandal got the ax after just two seasons despite audience and critical love, it is not clear. Netflix famously does not release its viewership numbers to the public, so we cannot know how well the series did for the service in its second season. Thankfully, the show's devoted fanbase and critical darling status should be a big help in getting a third season to land at another network. We will just have to keep hoping that some other platform sees the magic in American Vandal that its fans see.