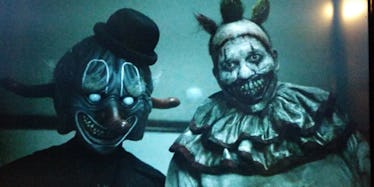 AHS Costumes That Will Make Your Crew The Scariest Part Of The Halloween Party
FX
If there is one show on television that is basically tailor-made for giving us the perfect Halloween costume inspiration, it's American Horror Story. The sprawling, ever-changing gorefest has already introduced fans to six seasons worth of uniquely terrifying characters, and it's about to wrap up a creepy, clown-y, cult-inspired seventh season right now. The best part is that since each season is packed with so many memorable, spooky characters, American Horror Story costumes for Halloween are actually perfect for a whole group of friends as well as solo ideas.
The real basics boil down to just picking out your favorite AHS character from one of the show's seasons and coordinating with your friends to be sure you're all representing the same season. Or, another good idea if you have six other AHS fans in your friend group, would be to each go as a standout character from each of the seven seasons to really do the franchise proud. Here are some group options for costumes from all the seasons of American Horror Story:
1. American Horror Story: Murder House
When it comes to pure chill-inducing horror, the first season of American Horror Story was one of the series' best. Murder House had vengeful ghosts, serial killers, mad scientists, an antichrist... oh, and to top it all off, there was also that bloodthirsty, undead Frankenstein fetus. Two of the most iconic and instantly recognizable looks from the first season were the Rubber Man and the maid Moira. You can get the black rubber suit from Walmart for $26.50, and to channel Moira, eBay has the exact wig for $15, which you can pair with a recreation of her dress from Poshmark for $50.
2. American Horror Story: Asylum
If religious irreverence is more your speed, then the second season, Asylum, is definitely the way to go this Halloween. A perfect costume of the creepy all-white nun emblematic of the season is available on eBay for $54, or you could show off your demonic side by channeling the possessed Sister Jude in her more sultry nun look, available for $33 from Blockbuster Costumes.
3. American Horror Story: Coven
In terms of campy, witchy fun, there was no season of AHS better than Coven. The main looks from the third season were, for the most part, less scary and more fashionable than others, so this could be a good choice for fans who want to still look chic on the scariest night of the year. Probably the most iconic look of the season is what the young witch Zoe wears when she arrives at school: you can get the wide-brimmed black hat from Target for $20 and the signature white blouse with black ties from Rose Wholesale for $35. For the guys, Walmart has a decked-out Papa Legba costume for $60.
4. American Horror Story: Freak Show
Twisty the Clown has become one of the creepiest and most notable villains in all of American Horror Story. There's a great Twisty costume for sale on eBay for $29. Another standout character (or characters, I guess) were the conjoined twins Bette and Dot. You don't need much to recreate their look, just pop on an extra head! You can get a mannequin head with hair on eBay for $7.
5. American Horror Story: Hotel
When it comes to AHS: Hotel, it's all about the Countess. Lady Gaga's vampiric socialite injected a dose of glamour into the season, which you can channel for Halloween by buying her red dress look from Walmart for $29. To go more on the creepy side, there's also this gothy bellhop costume going for $47.50 on eBay.
6. American Horror Story: Roanoke
For Roanoke, the two standout costumes would be Piggy Man and Lady Gaga's witch of the woods. Piggy Man is easy — a full costume is for sale for $34 on eBay — but you're going to have to piece together a witchy costume yourself. Really, all you need is some antlers to tie to your head (available from Target for $19) and the billowy shirt from a pirate's costume, like the one Walmart sells for $20.
7. American Horror Story: Cult
To channel the latest iteration of American Horror Story, the costume choice is obvious: creepy clown masks. Cult has offered up a vast array of creepy clowns to terrify us, and eBay has a wide assortment as well for just $6.