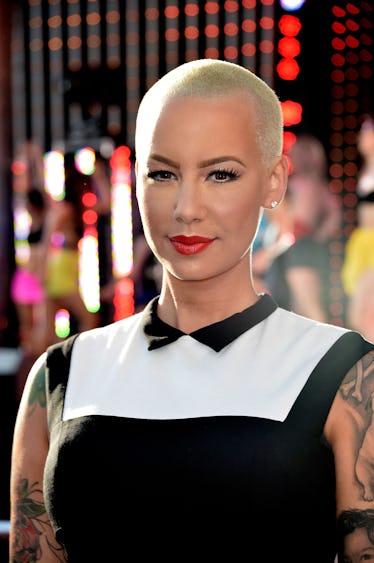 Amber Rose's Outfit At The VMAs Will Have You Saying, "MEOOOOW!"
Frazer Harrison/Getty Images Entertainment/Getty Images
The MTV Video Music Awards is the wildcard of all red carpet award shows. Unlike the Grammys and the Academy Awards, when MTV rolls out the carpet, it seems there's no obvious dress code. So, when any fashion statement goes, it's no surprise when someone shows up in head-to-toe red pleather, complete with a whip and cat ears.Yes, that's right. Amber Rose's 2018 VMAs look included no shirt, no pants, and honestly, it's no problem.
Amber Rose is somewhat of a wildcard herself. In 2014, she walked the same carpet in a silver dress made entirely of chains. And it wasn't in an edgy, but still modest kind of way, but rather a "I'm feelin' myself and I want everyone to know it" kind of way. Regardless, Amber Rose totally owned her sexy. The top looked like a bra embellished with said chains, but the bottom half of the dress was much sparser of a look. Hanging from the bra were about 20 chain strands draped across the front. The back featured a single chain that held the bra in place, and below the waist were 100 or so chains strategically placed. Rose also wore a silver g-string under the chain creation and paired the look with silver heels.
Just last year, she shocked everyone (including myself) yet again when she showed up on the 2017 MTV VMAs red carpet. Let me set the scene for you: A woman walked in with 21 Savage (Rose's then boyfriend) wearing an elegant, floor-length black dress with sheer panels and long sleeves. It's about as modest as it can be, but still sexy and totally head turning. The woman also rocked her long brown hair in old Hollywood waves, and paired the whole look with a cat eye and deep red lip. I kept thinking, "Who's that girl all over Amber Rose's boyfriend?" Come to realize, it was Amber Rose in a wig! She looked classic and beautiful, but still managed to make that look totally groundbreaking. All she did was ditch her signature bleach blonde buzz cut.
Finally, Monday night, Aug. 20 at Radio City Music Hall for the 2018 VMAs, Amber Rose managed to shock everyone again.
Rose still rocked her platinum buzz cut, but she left the long sleeve, floor length gowns hanging in her closet. She decided to go with something a little less comfortable and a lot more colorful.
I literally gasped as the camera panned up. Amber Rose wore red patent leather thigh-high boots over red fishnets, and paired those with an equally shiny red corset. The bra cups were inspired by Madonna (another VMA wildcard) but took a more costume-y shape than the original cone bra. Finally, she finished the look with a red thong, elbow-length red gloves, and a red leather whip.
Some people are calling it a devil costume, but peep the cat ears and contact lenses. She's a sexy red cat, people! Either way, it's a little dominatrix and 100 percent Amber Rose. Like it or not, she stays true to herself, and that's absolutely badass.