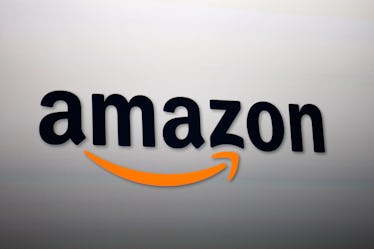 Amazon Might Be Opening Cashierless Stores, Because We're Living In The Future
David McNew/Getty Images News/Getty Images
In my humble opinion, using Amazon is the most convenient way to purchase everyday necessities. The company has made online shopping a total walk in the park by offering cheap deals and fast shipping — but it looks like the retailer has something new up its sleeve. Believe it or not, Amazon reportedly has plans to open cashierless "AmazonGo" stores by 2021, per Bloomberg. Apparently, people familiar with the matter opened up to the publication about Amazon's reported plans — and it sounds like "AmazonGo" stores might be the convenient pit-stops of the future. Elite Daily reached out to Amazon.com Inc and asked about its reported plans to open cashierless AmazonGo stores, but has not heard back by the time of publication.
Yes, I know: The term "cashierless stores" sounds like something you'd hear out of Back to the Future. What's a cashierless store, and how the heck would it work? Apparently, it would totally simplify customers' shopping experience. According to Bloomberg, customers would use their smartphone apps to initially scan themselves into the AmazonGo cashierless stores. Then, they'd grab whatever they wanted, and walk out of the establishment. There would be no need for cashiers or registers, because sensors would automatically charge each customer for the products they purchased as they exited the building. Easy peasy, right?
Now that you've wrapped your mind around what a cashierless store is, let's get into details about Amazon's reported plans to open thousands of AmazonGo establishments.
According to Bloomberg's anonymous insiders, AmazonGo stores would be convenient pit-stops similar to 7-Eleven, Panera Bread, and Subway. They would offer quick (but quality) bites for on-the-go customers who don't have time to wait on line for a fast snack. Apparently, the prepared meals would be fresh — and customers could walk in, grab the food that they want, and walk out (thanks to that handy cashierless technology).
It sounds to me like an AmazonGo store would be my go-to stop in the morning on my way to work in New York City — and apparently, that seems to be the goal. According to people familiar with the matter who spoke with Bloomberg, Amazon will target "dense urban areas" full of young people who are willing to spend a pretty penny on high-quality, ready-to-go food. (Ahem, that's me.)
If you're stoked about Amazon's reported plans to open convenient food stops for hungry customers, you'll be happy to hear about its predicted roll-out dates. According to the anonymous Bloomberg insiders, Amazon is planning on having up to 3,000 AmazonGo stores open by 2021. Apparently, the process has already begun. Per Bloomberg, the insiders said that Amazon will have 10 stores open by the end of 2018, and 50 by the end of 2019. If these numbers are accurate, customers might be using AmazonGo's cashierless technology before they know it.
Believe it or not, the idea of a cashierless Amazon store isn't unheard of. In fact, the first one already opened up in Seattle in 2016, per Bloomberg. Let's hope Amazon expands on its idea and opens more convenient (and cashierless) hubs in the future. I'm always down for a quick bite, and I'm curious to know what Amazon food tastes like.