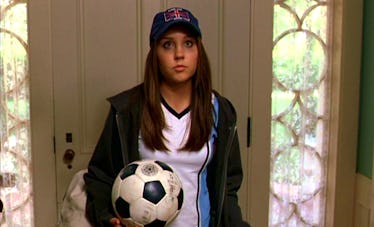 Amanda Bynes Opened Up About How She Hated Watching 'She's The Man' & 'Easy A'
DreamWorks
Amanda Bynes movies hold a special place in the hearts of everyone who was a teenager in the late 2000s, but sadly, Bynes herself did not have as much fun watching some of her most beloved movie roles. In a new profile with Paper Magazine, Bynes opened up about how she was uncomfortable watching her performances in She's the Man and Easy A, and how the depression surrounding those films led her to abruptly quit acting. Amanda Bynes' quotes about She's the Man will make you see the movie in a whole new light.
For the first time, Amanda Bynes has opened up about the low points in her acting career and her struggle with drug addiction that led her to quit showbiz for the past several years. Although She's the Man and Easy A are two of Bynes' most celebrated movies, she said that her experiences watching both of those films when they were released negatively affected her. She's the Man came out in 2006, when Bynes says that she was regularly using marijuana but nothing else. In the movie, which is a modernization of Shakespeare's gender-bending play Twelfth Night, Bynes played a woman who disguised herself as a man in order to play soccer at an all-male prep school. Bynes said that seeing herself as a man on the big screen really messed her up:
When the movie came out and I saw it, I went into a deep depression for 4-6 months because I didn't like how I looked when I was a boy. I've never told anyone that. [It was] a super strange and out-of-body experience. It just really put me into a funk.
While her boy-drag in She's the Man led to a depressive episode, it was not until Amanda Bynes' supporting role in Easy A that the actress had to fully step away from the cameras.
Her final film role was as the hyper-judgmental Christian high schooler Marianne Bryant in the Emma Stone-led comedy Easy A, but Bynes disliked her appearance even more in the movie than when she was dressed as a boy. She revealed that she had developed an addiction to Adderall a few years prior after hearing that women would use the drug to stay thin, and that her intense reaction to her appearance when watching Easy A may have been caused by the drug:
I literally couldn't stand my appearance in that movie and I didn't like my performance. I was absolutely convinced I needed to stop acting after seeing it. I was high on marijuana when I saw that but for some reason it really started to affect me. I don't know if it was a drug-induced psychosis or what, but it affected my brain in a different way than it affects other people. It absolutely changed my perception of things. I saw it and I was convinced that I should never be on camera again and I officially retired on Twitter, which was, you know, also stupid.
Since retiring from acting, Amanda Bynes has been working towards a Merchandise Product Development degree at the Fashion Institute of Design and Merchandising. Although she has not acted since Easy A, Bynes is preparing her comeback now, and we are all ready for Amanda Bynes 2.0.