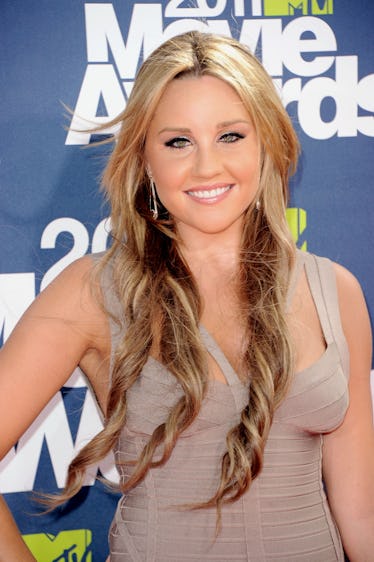 Amanda Bynes Opened Up About What Really Caused Her Public Breakdown All Those Years Ago
Jason Merritt/TERM/Getty Images Entertainment/Getty Images
Amanda Bynes had been through quite a lot over the past several years. After experiencing a very public breakdown in 2013, Bynes basically took a break from the spotlight. And in that time, she's healed, gotten sober, and started taking classes at Fashion Institute of Design and Merchandising in downtown Los Angeles. In a recent interview with Paper, Bynes opened up about all that she's gone through in the past five years. And Amanda Bynes' comments about her drug-induced public breakdown will definitely make you rethink judging a book by its cover.
According to Bynes' interview with Paper, the trouble started with marijuana, which she started using at age 16. That then progressed into taking Adderall, then other types of drugs. The reason for her drug use? She was apparently unhappy with her appearance on screen and felt that she "should never be on camera again." That mindset led to an early retirement, and all that idle time, according to Bynes, led to even more drug use.
Flash forward to 2013 when Bynes was experiencing a very public meltdown. During that time, she often took to Twitter to express herself. And that came with a price. The now 32-year-old actress was known to say insulting or embarrassing things about fellow celebrities, including Drake.
After spending years healing and getting sober, Bynes says she feels embarrassed by the whole thing. "I'm really ashamed and embarrassed with the things I said. I can't turn back time but if I could, I would," Bynes said in her interview with Paper. "And I'm so sorry to whoever I hurt and whoever I lied about because it truly eats away at me. It makes me feel so horrible and sick to my stomach and sad. Everything I worked my whole life to achieve, I kind of ruined it all through Twitter. It's definitely not Twitter's fault — it's my own fault."
As painful as those memories are, Bynes revealed that the most frustrating thing about her public breakdown was that so many people tried to diagnose her with mental health issue rather than accept that her behavior was caused by her drug use.
"It definitely isn't fun when people diagnose you with what they think you are," Bynes said. "That was always really bothersome to me. If you deny anything and tell them what it actually is, they don't believe you. Truly, for me, [my behavior] was drug-induced, and whenever I got off of [drugs], I was always back to normal."
Looking back on her drug use now, Bynes revealed that all of that is in the past.
Those days of experimenting [with substances] are long over. I'm not sad about it and I don't miss it because I really feel ashamed of how those substances made me act. When I was off of them, I was completely back to normal and immediately realized what I had done — it was like an alien had literally invaded my body. That is such a strange feeling.
So, it sounds like Bynes definitely has some regrets about what happened, but she's matured so much and it seems like she's doing a lot better than she once was. Good for you, Amanda!