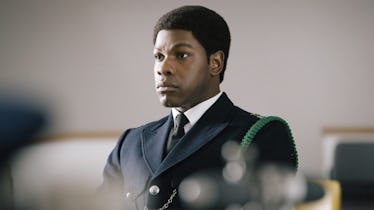 Here Are All The Shows & Movies New To Amazon Prime Video In November
Amazon Prime Studios
Amazon Prime Video, or "Prime Video," as most people call it, has been Netflix's most obvious competitor for years. It started as a video streaming rental service as "Amazon Unboxed," a companion to Amazon's original venture as a vendor of books and videos. It moved to rentals via DVD in 2011 to compete more fully with Netflix, only for Netflix to come out with its "Originals" lineup of content in 2013. Since following suit with its own line of TV series and films, Amazon has been the second-biggest streamer in the U.S. So, what shows and movies are new to Amazon Prime Video this month? Let's run down the November list.
November sees the debut of Alex Rider, the first original series for Amazon's IMDb TV. Unlike Prime Video, which requires a Prime membership, IMDb TV is free. Alex Rider, a spy-thriller based on the novels by Anthony Horowitz, marks the first time the streaming service, which launched in 2019, has ventured into original content. It arrives on Nov. 13.
Over on Prime Video proper, there are several new series as well, including The Pack, a reality series about sled dogs, James May: Oh Cook, in which the former Top Gear host attempts to cook, and Ferro, a docuseries following Italian singer Tiziano Ferro. But the most significant project coming to Prime Video is Small Axe, an anthology film series created and directed by Steve McQueen (12 Years A Slave). The limited series is comprised of five original films, which star A-list talent including Letitia Wright and John Boyega. Small Axe debuts on Friday, Nov. 20, with one installation a week through Dec. 18.
Here's the full list of what's coming to Amazon in November of 2020.
Nov. 1
28 Days Later
A Christmas Movie Christmas
A Christmas Switch
Arizona Whirlwind
Article 99
As Good As It Gets
Boyz N' The Hood
Breathless
Country Strong
Crouching Tiger, Hidden Dragon
Dead Poets Society
Deja Vu
Did You Hear About The Morgans?
Firewalker
I Know What You Did Last Summer
Legally Blonde 2: Red, White & Blonde
Me, Myself & Irene
More Than A Game
Mr. Majestyk
Next Day Air
Platoon (1986)
Rock N' Roll Christmas
Romancing The Stone
Ronin
Silverado
Step Up
Thank You For Smoking
The Expendables
The Expendables 2
The Expendables 3
The Insider
The Iron Lady
The Jewel Of The Nile
The Last Waltz
The Sapphires
The Taking Of Pelham 1 2 3
The X Files: I Want To Believe
Twilight
Underworld: Evolution
Underworld: Rise Of The Lycans
Underworld
W.
Wall Street
Water For Elephants
You Got Served
Zookeeper
Nov. 3
General Commander
The Assault
Nov. 4
Nov. 6
The Secret: Dare to Dream
El Presidente (English Dub) Season 1 (Amazon Original Series)
Ferro Season 1 (Amazon Original Series)
Wayne Season 1 (Amazon Presents)
Nov. 7
Nov. 8
Nov. 11
Nov. 13
The Ride
Alex Rider Season 1 (IMDb TV Original)
James May: Oh Cook Season 1 (Amazon Original Series)
American Horror Story: 1984: Season 9
Nov. 14
The Dictator
Scrubs: Seasons 1-9
Nov. 15
12 Pups Of Christmas
Christmas Crush
Nov. 18
Nov. 20
Seven Stages To Achieve Eternal Bliss
Small Axe Limited Series (Amazon Original Series)
The Pack Season 1 (Amazon Original Series)
Nov. 21
Nov. 25
Uncle Frank (Amazon Original Movie)
Nov. 26
Nov. 27
This article was originally published on