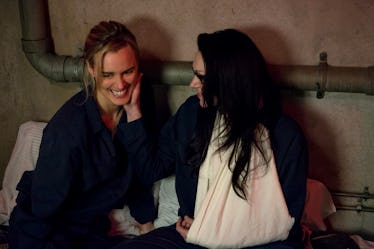 There Was A Major Bright Moment On 'OITNB' Season 6 & Yes, I'm Still Crying
Cara Howe/Netflix
Here come the brides, all dressed in jumpsuits. Orange Is the New Black usually keeps things on the bleak side, but Season 6 culminated with an official milestone that will certainly satisfy Vauseman shippers who have been rooting for the couple throughout their rollercoaster of a relationship. Spoilers ahead if you have not watched all of Orange Is the New Black Season 6. Alex and Piper's wedding on Orange Is the New Black was the moment fans have been been waiting for, and although it had a gut-wrenching catch, the touching ceremony did not disappoint.
Alex and Piper have had quite the rocky road to the altar. Their courtship was marred by criminal activity and at one point they were bitter enemies. This season was relativity tame for them in the drama department, as the pair got to live side-by-side in the same block and lean on one another for moral support. Yes — Piper was tormented by resident C Block baddie Madison "Badison" Murphy throughout, so (swoon) her beloved Alex decided to do something about it and pledge her allegiance to block boss Carol to get her off her fiance's back without Piper being the wiser.
Despite Pipes' busted tooth, a mission to revive inter-block kickball, and the anguish that came with constant Max bullying, that was pretty much the main hurdle plaguing them throughout Season 6. Mostly, they were just their adorably loved-up selves. Alex even pinterest-ed wedding inspo when she got a hold of an unauthorized cell phone at one point. Cute!
Piper and Alex got each other into prison, so why not get prison-married to seal the deal at this stage in the game? Well, that's exactly what they did in the sixth season finale.
Vauseman's nuptials weren't without a bittersweet twist — um, this show rarely does the happy without lining it with despair. Piper's getting ready for early release! She's leaving Litchfield for good (fingers crossed) and Alex will sadly be without her new wife after they say "I do." They'll have to save the honeymoon for a later date.
In the final hour of Season 6, Alex surprises Piper with the prison wedding of her dreams. The big day is complete with familiar faces like Lorna and the perfectly sarcastic officient — Nicky Nichols. There are improvised decorations, keychain rings, and vows from the blushing brides that would make any coldhearted hater weep. Alex vows:
It's hard to know what promise I can make to you that won't sound like a bunch of clichés people say at weddings. So, I wanted to make a promise that fits us considering the distance that we covered to get here and how far we'll have to go before we can be together again. But to do that I have to talk about something that's uncomfortable to bring up. There was a time when I hurt you and I did something unforgivable and I don't think that I can express in words the guilt and regret that I feel for having done that to you, the person I care about the most. So my promise is to make it up to you every day. In small, quiet ways. For the rest of our life together.
Are you in a puddle of tears yet?
Piper didn't prepare vows, but she had one very real request for her wife on the inside: "I want you to promise me that you'll get out of here." Piper's promise to her? She vows to wait for Alex.
If that's not true love, I don't know what is. Orange Is the New Black isn't typically about fairytale moments — Piper gets out, so who knows what will happen? — but this wedding scene comes pretty close for now.