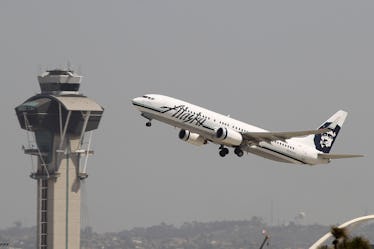 You Can Fly To Las Vegas For $39 On Alaska Airlines For A Warm Winter Getaway
David McNew/Getty Images News/Getty Images
If the winter weather has you ready to sneak off to a warmer and sunnier locale, then you may want to take a quick peek at Alaska Airlines' December 2018 flight sale. Right now, the airline is offering tickets starting at $39 each way. Seriously, these prices are going to make your wallet squeal with delight. You will need to book ASAP, though, to snag an affordable flight because the sale ends on Wednesday, Dec. 5. Ready to pack your bags? Here's what you need to know about the incredibly awesome airfares.
Just in time for the holidays is a ridiculously inexpensive flight sale from Alaska Airlines. I know that this is the time of year to buy gifts for others, but why not practice a little self-care and treat yourself to an affordable vacay? Time is of the essence, as the Alaska Airlines December 2018 flight sale ends Wednesday, Dec. 5.
The two-day airfare sale includes routes like Los Angeles to Las Vegas starting at $39 for a one-way ticket. This same ticket price is also valid from Las Vegas to Los Angeles. This means that you can fly roundtrip between the two cities for a mere $78. It's so hard to find roundtrip flights for under $100 these days, so you'd be silly not to take advantage of this deal.
If Los Angeles or Las Vegas isn't on the top of your list, there are other affordable airfare deals to be had. For instance, you can fly from Los Angeles to San Francisco for $49 each way. That's still a great deal in my book. San Francisco is one of my favorite places to visit. From delicious fresh oysters to the Golden Gate Bridge, there is so much to experience in San Fran. If you've never been, I definitely recommend making the trip sooner rather than later.
The fares included in the Alaska Airlines December 2018 flight sale are part of the airline's saver fares. These fares are the most restricted fares, which is why they are so cheap. That said, there are few things to keep in mind when you purchase your tickets. You will have limited access to which seats you can select because it is a discounted fare. In all likeliness, Alaska Airlines will probably just assign you a seat. You will also be one of the last to board the plane during general boarding, according to Alaska Airlines. This means you will get the last pick for overhead bin access, so pack lightly.
This is all worth it, of course. It is not often that you can get an airline ticket for $39. Just keep in mind that in order to score one of these super cheap flights, you need to be by Wednesday, Dec. 5.
It can be so hard to plan a trip with friends sometimes, but these cheap fares will make it hard for your crew to say no. If Los Angeles, Las Vegas, or San Francisco aren't on the top of your travel list, there are plenty of other destinations included in the Alaska Airlines December 2018 flight sale. You may just have to pay a little more. It's worth taking a look around to see where you can go. Bon voyage!