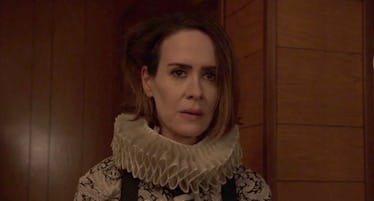 The 'AHS: Cult' Finale Proves The Seasons Are All Connected & We're Freaking Out
FX
At long last, American Horror Story fans, the end of AHS: Cult is here. It feels like just yesterday we were talking about the Season 7 premiere and theorizing about what kind of sinister plot Ryan Murphy held in store for us, and now we're talking about the finale. As expected, this season was an absolute sh*t show, and the finale episode is no exception. In between all the chaos, blood, and manipulation, though, you may have missed one major AHS: Asylum Easter egg that connects AHS: Cult to previous seasons.
That's right, there's a lot going on with Kai, Ally, and Beverly in the finale, so it's easy to miss when Beverly mentions Lana Winters' name ever so briefly in the middle of the episode. Yes, Lana Winters, as in THE Lana Winters, as in the same Lana Winters that "escaped" Briarwood in Asylum and showed up in Roanoke to interview survivors from the colony.
Lana's name comes up during a discussion between Ally, her new girlfriend, and Beverly when Ally's girlfriend suggests Ally do an interview with a journalist named Rachel Meadow about her experience in Kia's cult. Right away Beverly shuts that idea down, saying "If she turned down Lana Winters why would she talk to Rachel f—ing Meadow?" because Lana Winters is the AHS version of Oprah.
Sadly, Beverly's mention of Lana never amounts to anything and our fave lesbian journalist doesn't make a cameo. Despite that let down, it's always exciting to see/hear Easter eggs from past seasons and see how they might offer a through-line between chapters.
That being said, this isn't the first time AHS: Cult has referenced previous seasons of Horror Story. If you've been watching since the premiere earlier this year, then you know there have been a number of references to AHS: Freak Show including quite a few appearances by Twisty the Clown (mostly in doll form, but still) and a bottle of Michael David Winery's Freak Show cabernet, a "Helter Skelter" connection between Roanoke and Cult, and a reference to Tate Langdon from Season 1 who was featured on one of Kai's campaign posters.
While it would have been nice to see Lana Winters appear in the same way she did during the Roanoke finale, her name is clearly not mentioned in vain; indeed, at the very least it confirms that Murder House, Asylum, Freak Show, Roanoke, and Cult exist in the same universe and it possibly even gets the ball rolling for the highly anticipated reveal of how all the seasons are connected.
Earlier this year, one theory regarding how the seasons are connected to one another went viral after Ryan Murphy seemingly endorsed it by posting it on his Instagram and other social channels. The theory suggests that each season of Horror Story corresponds to one of Dante's nine circles of Hell from his Inferno.
The picture connects Murder House to Limbo, Hotel to Gluttony, Freak Show to Greed, Roanoke to Anger, Cult to Heresy, Asylum to Fraud, and Coven to Treachery. Of course, to AHS diehards, many of these are debatable and seem interchangeable, but the fact that Murphy himself captioned the connections "Interesting" certainly carries weight.
One way or the other, it's no surprise that Cult has seen so many subtle references to past seasons. Last year, ahead of the premiere of AHS Season 6, Murphy spoke with The Hollywood Reporter about his plans to connect each season of the show starting with Roanoke and running through Seasons 7 and 8; the EP told THR,
You'll see it this season, and then you'll really see it after this season. We lay a lot of pipe, and you'll see it explode in seasons seven and eight.
Clearly Murphy wasn't lying, because Season 7 is full of Easter eggs, which means Season 8 will likely have even more. As is always the case, who knows what's in store.
Check out the entire Gen Why series and other videos on Facebook and the Bustle app across Apple TV, Roku, and Amazon Fire TV.