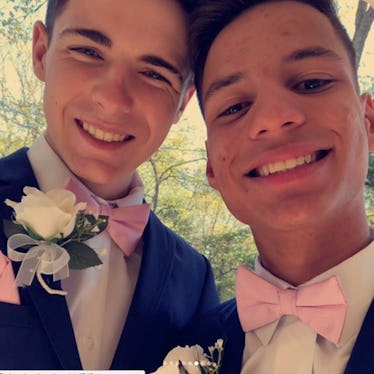 This Teen Couple Never Expected These Strangers' Sweet Reaction After Prom
You ready for an amazing prom story? Boy, oh, boy, have I got you covered. I'm about to share with you a story that has it all. I mean, this story has got hope, heartwarming camaraderie, and, of course, pure unadulterated love. A gay teen couple in Seaside Heights, New Jersey was heading home from their very first prom together when a potentially discriminatory situation turned into something surprisingly supportive and sweet. You see, after prom, Theodore Vidal and Colin Beyers got the cutest reaction from strangers when they locked lips in front of the crowd.
If you're wondering why this is a big deal, let me give you some backstory on the social landscape in Seaside, New Jersey, per the boys. "It's South Jersey. Guys pick on us for being gay a lot," explained 17-year-old Vidal to BuzzFeed News, a junior at Lacey High School. "It's an area where you normally would get picked on and discriminated against." But on this one fateful night, Vidal and his boyfriend, Beyers, got a vote of confidence from an unlikely group of people.
Luckily for us, Good Morning America producer Michael Del Moro was a bystander and magnificently captured the entire exchange on Twitter where it has since gone viral. Read along and rejoice in this beautiful story.