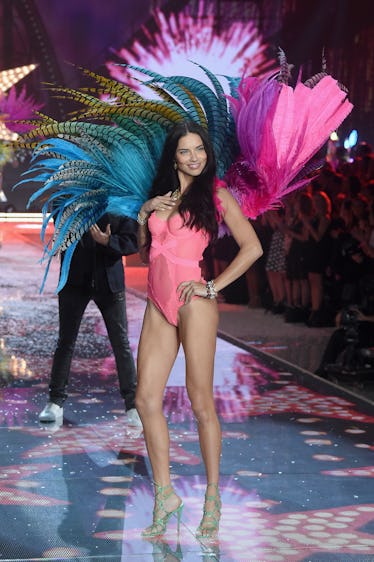 Adriana Lima's Net Worth Is So Much More Than You Could Ever Imagine
Jamie McCarthy/Getty Images Entertainment/Getty Images
The Victoria's Secret Fashion Show is here and the models are, as always, the best of the best. Some of the VS Angels, like Adriana Lima, have been gracing the fashion show's catwalk for years, making major bucks in the process. What is Adriana Lima's net worth though?
Earlier this year, Daily Mail crunched the numbers to list the top nine highest-paid Victoria's Secret models and guess who sits perched at the top? That's right, Brazilian model Lima, who has been in the game for years. In fact, she's the longest-running VS Angel and she was the highest-earning Victoria's Secret model in 2016, according to Forbes. Lima's first show was in 1999 when she was just 18 years old, and she's walked every year since, with the exception of 2009 when she was pregnant.
Additionally, Lima has worn the famous Victoria's Secret Fantasy Bra three times: in 2008, 2010, and 2014. So, I guess you could say things are working out pretty well for the model.
So, what is Lima's net worth? According to the Daily Mail, Lima is worth $75 million. She's also the second-highest paid model in the world. No big deal.
Coming in second and third are models Alessandra Ambrosio, who is reportedly worth $60 million, and Liu Wen, who is worth $35 million.
Lima has been in the modeling game since she was 15, when she won a "Supermodel of Brazil" competition. She appeared on her first magazine cover in 1998 and landed the cover of Vogue in 2000 for their 20th anniversary issue.
Of course, to earn that kind of money, Lima has to take care of her money maker: her body.
Lima told New York Magazine last year how she likes to stay healthy, explaining:
I knew I had to find something that I loved — that was the only way I could be happy with working out and going to the gym. I tried yoga, dancing, and aerobics. I knew I had to find something I loved, and didn't find it until I found boxing. That's the secret. There are so many different types of exercises, you just have to find your passion.
You'd think with all of Lima's experience, it would be a super easy gig for her, but it turns out she still gets nervous. The model told W magazine of the upcoming Victoria's Secret Fashion Show:
I'm so excited. I can't wait. Right now, the nerves are striking. I get super nervous every single time. It's unbelievable to be going to China. It's going to be one of the biggest shows ever. It's insane. I actually just came from there. It's so wonderful. There is such a traditional culture there, and I love their medicine culture, which is a really natural approach.
Lima explained to HELLO! that she loves being a VS Angel, saying: "I don't try too hard, and I enjoy the moment because I love being a part of Victoria's Secret. I love being an Angel. I'm living a dream. I really appreciate it."
Lima also told the magazine that Tyra Banks first helped her feel welcome to the Victoria's Secret family, explaining, "She approached me to say hello. She asked me where I was from. She was shooting a movie at the time."
And those early days of Banks as her mentor shaped her role for helping other up and comers on the VS runway, as she explained, "I take everybody under my wings. Mama."
Given that she has one of the sweetest modeling gigs of all time, many wonder if she has any plans to retire. When will Lima end her career as a Victoria's Secret model? She told People earlier this year: "My plan is to stay as long as my body allows me, at least until I am 40, so that's four or so more years. But if I can stay longer, I will."
Something tells me she'll be walking that runway well into her 40s.
Check out the entire Gen Why series and other videos on Facebook and the Bustle app across Apple TV, Roku, and Amazon Fire TV.