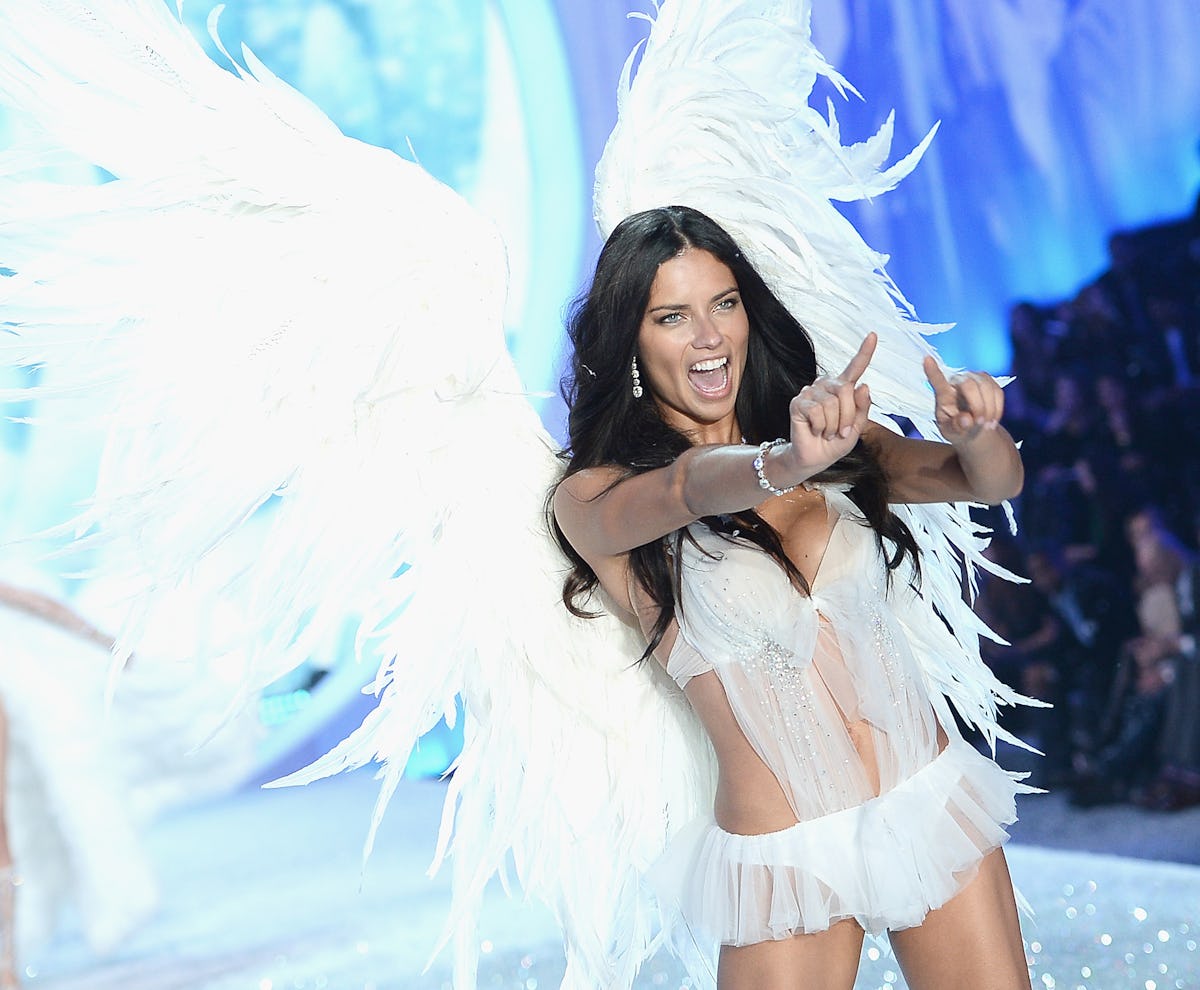 Adriana Lima Just Made A Major Announcement About Her Career, & It's Empowering AF
Dimitrios Kambouris/Getty Images Entertainment/Getty Images
Adriana Lima lives a life that most people would probably envy (from an outsider's perspective, anyway). She's a model and a Victoria's Secret Angel, so the natural thought would be that she's quite comfortable with her appearance. Lima doesn't simply take any modeling job offer that comes her way, though. In fact, Adriana Lima's Instagram post announced a huge a career change, and she cites "empty causes" as the reason why.
Lima took to her Instagram page on Saturday, Dec. 9 to make her voice heard regarding the kinds of modeling offers that she receives. She wrote in the caption, "I will not take off my clothes anymore for an empty cause." The impetus for speaking out was a recent call she received about "filming a sexy video" that was to be shared on social media.
Lima acknowledged that she wasn't new to these types of offers and that she's actually done similar shoots before, but she said that a friend's comment changed something within her. Lima wrote that a friend approached her "to share that she was unhappy with her body," and that sparked something inside of Lima causing her to think about her own thoughts concerning body image.
Lima wrote that every day she wakes up and thinks, "How do I look?"
Being that she's a professional model, she would wonder, "Was I going to be accepted in my job?"
Imagine that, a model who has walked the runway in 18 Victoria's Secret Fashion Shows wakes up wondering if she'll fit in as a model. Lima continued as she said she realized that the "majority of women probably wake up every morning trying to fit in a stereotype that society/social media/fashion etc imposed."
From the looks of her post, continuing to live that way (stressing over your body because of societal pressure) is not an option. Lima wrote in the caption that she decided to make a change because that's not a physically or mentally healthy way of living. That change for Lima, as stated earlier, is that she will fight those societal expectations by no longer taking off her clothes for an "empty cause."
Now, she doesn't go on to define what constitutes an "empty cause," but it would stand to reason that she's trying to help eliminate the stereotypes and societal pressures concerning women and their body image by not getting naked just for the sake of getting naked.
In this same post, Lima also shared that she is tired of "living in a world with such superficial values." Lima didn't really make it clear what taking this kind of stand would mean for her career beyond not modeling for "empty causes." According to Glamour, though, the iconic Victoria's Secret Angel did unfollow Ed Razek, the senior creative executive at Victoria's Secret, and a few of her fellow Victoria's Secret models. While this isn't exactly a statement on her status as a Victoria's Secret Angel, it has led some people to speculate that she may be leaving Victoria's Secret for good.
Perhaps this is the beginning of Lima contributing to changing society's unrealistic expectations and standards when it comes to women's appearance. She did write, "I will make that change. I will start with me." While she doesn't lay out a point-by-point plan, she does acknowledge that she has control over which jobs she will and will not take.
Of course, you could argue that a model's career is largely based on appearance and superficial standards, but Lima's post all but directly states that she understands that. The gist of her message seems to be that she is attempting to impact change through the choices she makes as a model, because she seems to understand that no one is immune (even models) to trying to live up to impossible standards.
Lima is attempting to break down longstanding (oftentimes ridiculous) physical stereotypes peddled toward women in society, and her message to other women is to do the same in order to live a happier and healthier life. Good on you, Adriana!
Check out the entire Gen Why series and other videos on Facebook and the Bustle app across Apple TV, Roku, and Amazon Fire TV.