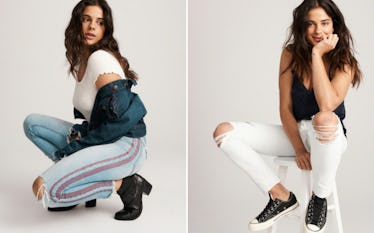 Abercrombie & Fitch Has Some Bomb New Jeans So Get In, We're Going Shopping
My middle school mall days were mostly filled with me begging my mom to take me to Abercrombie & Fitch to get the newest logo tees. The company's branding was on point and half of my wardrobe said "A&F." Now, however, Abercrombie & Fitch's new jeans are a must-have item because the brand has grown up right along side its millennial fan base.
Abercrombie & Fitch took a denim hiatus between 2002-2017, a 15 year break to be exact, but, thankfully, the separation didn't last. 2018 brings the second year of the A&F-denim reconciliation and the pair couldn't be happier (and neither could I). Abercrombie's new denim collection has a mix of classic silhouettes as well as trendy, more colorful styles. Their online denim shop even has an outfit pairing tool that rivals Cher Horowitz's in Clueless. What's not to love?
Even cooler than the jeans themselves is how Abercrombie shot the campaign. The brand sourced all 30 of its "models" from Instagram – it's all just real people who look d*mn good in their jeans. According to Elle, the men and women of the "Do it in denim" photoshoot were encouraged to be their own stylist and pick their favorite pieces to wear. It's basically a bunch of friends hanging out in their favorite jeans and I'm getting FOMO, but a look at some of the denim they're wearing might help to cheer me up.
High Rise Ankle Jeans in Medium Wash with Red Stripe
The first pair that caught my eye was this slim ankle jean with a flashy red grosgrain stripe down each leg. The pop of color in the trim is just the right amount to still have the pants be a wardrobe staple.
High Rise Mom Jeans in Dark Wash
A pair of cool mom jeans is practically mandatory these days.
Low Rise Ankle Jean in Ripped Black
Skinny-cut black jean are an absolute must for me – they go with literally everything.
High Rise Ankle Flare Jeans in Dark Wash
Cropped flared jeans are also one of my favorite style this season, a bonus of the cut is that you can show off all your cute summer shoes!
Low Rise Boyfriend Jeans in Medium Wash with Paint Splatter
Is there anything more comfortable than a good pair of boyfriend jeans? Not much.
High Rise Slim Jeans in Ripped White
Nothing says summer like a pair of crisp, white jeans.
High Rise Ankle Straight Jeans in Red
All of the jeans come in multiple different washes, and this particular style even comes in a fresh red.
Sculpt High Rise Ankle Jean Legging in Rinse
My two favorite kinds of pants to wear are jeans and leggings, combine them into one glorious pant and I'm done.
Chambray Shirt in Light Wash
I love denim on denim, so I'm all about this.
Girlfriend Denim Jacket
I'd even to denim on denim on denim with this jacket.
Denim Jacket in Washed Black
If you don't want to go all blue with your denim look, a black jean jacket is a great alternative.
Check out the rest of the styles at Abercrombie's denim shop online!