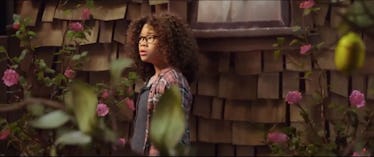 The 'A Wrinkle In Time' Trailer Proves It Will Be The Movie Of The Year
Warner Brothers
For fantasy fans, one of the most anticipated movies for 2018 is Ava Duvernay's A Wrinkle In Time adaption. Starring Oprah Winfrey, Mindy Kaling, Reese Witherspoon, Gugu Mbatha-Raw, Chris Pine, and Bellamy Young, this is one of the best looking adaptations of a beloved fantasy novel to hit the big screen in quite some time... And now, during the American Music Awards 20-17, the newest A Wrinkle In Time trailer has arrived, and fans are screaming.
A Wrinkle In Time, for those who haven't read it, is just one of the novels in Madeleine L'Engle's Time Quintet series. Wrinkle is the opening novel in the series, which is then followed by A Wind in the Door, A Swiftly Tilting Planet, Many Waters, and then An Acceptable Time, which is set a full generation later.
Here's the synopsis for the upcoming movie:
After learning that her astrophysicist father is being held captive on a distant planet deep in the grip of a universe-spanning evil, Meg Murry works with her highly intelligent younger brother Charles Wallace, her classmate Calvin O'Keefe, and three astral travelers to save him.
Check out the full, extended trailer, which the TV spot invited everyone to watch online:
As a book nerd who read all five novels as a teenager, and wanted to be Meg Murray when I grew up, I have few quibbles with Duvernay's vision. Her Mrs. Who, Mrs. Whatsit, and mrs. Which are exactly as otherworldly as I needed them to be, and the visuals of the planets the children travel to while searching for Meg's father via the tesseract are as fantastic and creepy as I could hope.
My only issue? Calvin is not nearly tall, gangly, or ginger enough. I dated tall, gangly gingers because of Calvin. I am sad they chose to pretty him up instead.
But as I said, these are mere quibbles. As Twitter will happily inform you, everything else about this trailer is perfect.
For many, the trailer's message to young girls, #BeAWarrior, couldn't come at a more perfect, or necessary time.
And for some, it was so good, it should be sold in stores.
For others, it's the memories the movie will bring back that matter.
(My dad passed away in 2013. This is also going to be a weepfest for that reason, even if it wasn't one of my favorite childhood series of all time.)
For others, it was glimpses of the cast, especially the incredibly well cast witches Who, Which, and Whatsit that were everything.
And then there were those who have been waiting for a movie like this their entire lives.
This tweet is an actualfacts thread which also notes that the series, which was written in the 1960s, has parts which we would today consider "problematic."
But I expect that Duvernay's adaptation finds ways to take those less than acceptable characterizations from the original series and find nice ways to smooth out the sharp edges and clean it up for a 2018 audience. This *is* a Disney production after all.
This outpouring of emotion is a very good sign of the movie's prospects when it arrives in theaters next spring. If Duvernay can make it a box office smashing hit, I would expect the contracts of those involved to expand accordingly to encompass sequels for A Wind in the Door, A Swiftly Tilting Planet, and Many Waters at the very least, if not an entire secondary series based on Meg's daughter Polly O'Keefe, who is the star of An Acceptable Time, as well as her own novels, The Arm of the Starfish and Dragons in the Waters.
A Wrinkle In Time will arrive in theaters everywhere on March 9, 2018.