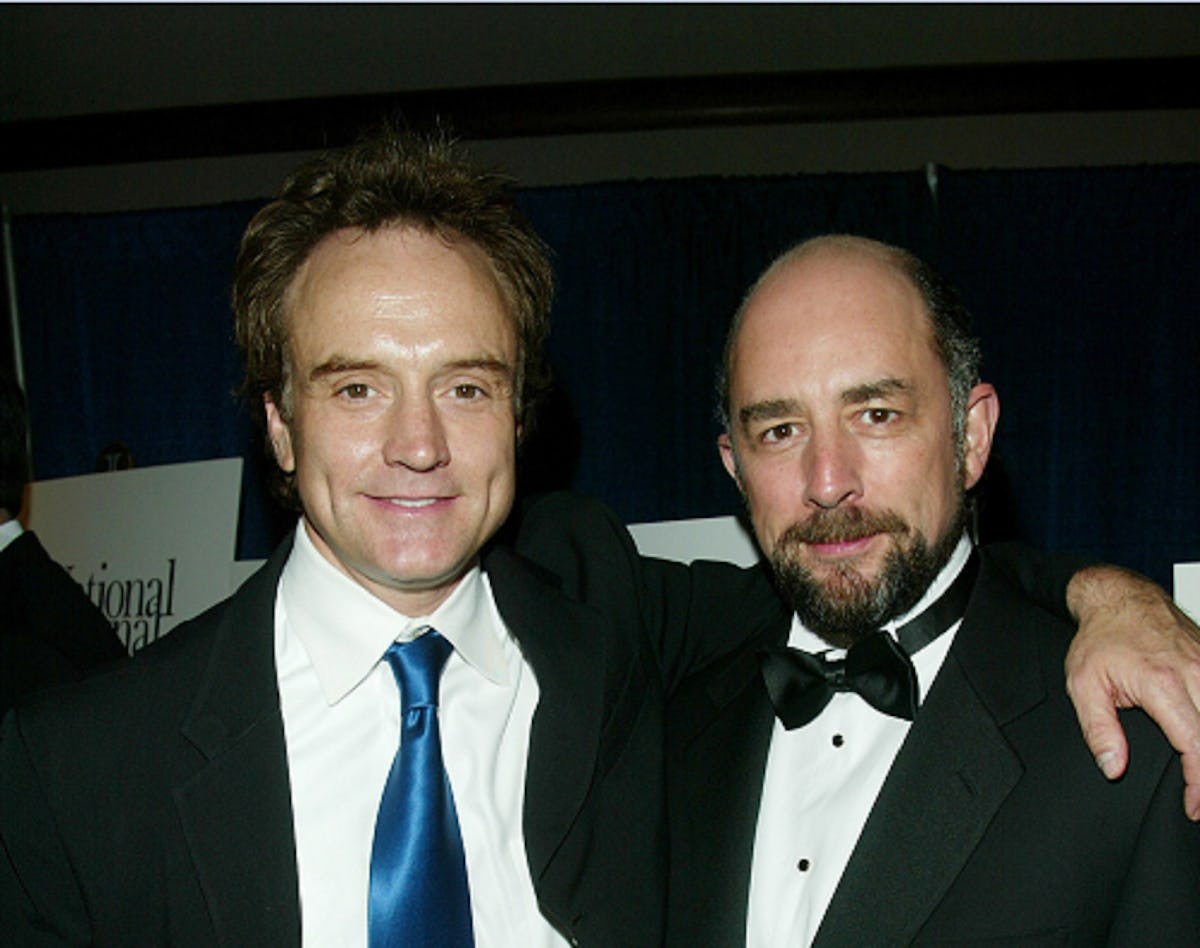 Attention 'West Wing' Fans: A Major Cast Reunion Event Is Happening For The Best Reason
Evan Agostini/Getty Images Entertainment/Getty Images
Let's be honest, the current administration has sent any political drama fans into a frenzy of re-watching The West Wing on Netflix. Regardless of viewers' political affiliations, the Emmy-winning NBC series about the U.S. president and his senior staff captivated audiences for seven seasons. Political novices and White House officials have both praised the show and, in this era of frequent TV reboots, fans have been begging for a revival. While that isn't happening at the moment, there will soon be a West Wing cast reunion to benefit the Society of Professional Journalists (SPJ). Aaron Sorkin himself couldn't have created a more suitable-sounding organization to work with.
Cast members Bradley Whitford, Joshua Malina, and Richard Schiff, as well as one-time guest stars Ed Begley, Jr. and Jeff Perry, will reunite in Los Angeles on Jan. 27 for a special reading of the 1976 screenplay All the President's Men. The original film, which starred Robert Redford and Dustin Hoffman as journalists Bob Woodward and Carl Bernstein, told the true story of the Washington Post's investigations of the 1972 Watergate scandal. The movie was nominated for Best Picture at the Academy Awards and came away with four other wins. As seen with recent films such as The Post, it was praised for intricately exploring the government's relationship with the press.
This particular choice for the benefit reading fits with The West Wing perfectly, seeing as it provided a weekly look into the Oval Office that everyday citizens wouldn't have had exposure to otherwise. Running from 1999 to 2006, the series was awarded for its efforts with more than 20 Emmy awards overall.
The five cast members will join other actors, including Scandal's Joe Morton, through L.A.'s Fountain Theatre for the free event. L.A. City Councilmember Mitch O'Farrell is scheduled to host. Whitford and Malina, who has stayed true to his West Wing past through his podcast The West Wing Weekly, will lead the company as Woodward and Bernstein. Fingers crossed for an entire podcast episode in preparation of this reunion.
SPJ national president Rebecca Baker said in a statement:
We're grateful to Councilman O'Farrell, the event's organizers and the actors for recognizing the importance of a free press and hosting this fun, creative and important event to support it. SPJ relies heavily on people willing to fight for the First Amendment through donations or by joining the Society as members. Their support makes it possible for SPJ to continue helping journalists who are wrongfully arrested, training journalists of all ages and educating the public about solid, ethical journalism through the SPJ Code of Ethics.
Event director Stephen Sachs, who's also the artistic director of the Fountain Theatre, also discussed the relevance of the special reading:
As the current administration is under investigation, the echo of Watergate rings lour and clear. Reporters from The New York Times and Washington Post have been heroes, warriors for our democracy, as they were forty-five years ago.
Whitford, who won an Emmy for playing Deputy Chief of Staff Josh Lyman, was most recently seen in Get Out and The Post, both films currently generating Oscar buzz. Malina joined The West Wing in Season 4 as Will Bailey and now stars on Scandal. Like his former co-stars, Schiff has also been active after playing Communications Director Toby Ziegler, currently appearing in the new ABC series The Good Doctor.
Unsurprisingly, all three regularly discuss politics on social media, so spending years embedded in the world of West Wing must have rubbed off. Malina and Whitford frequently retweet political news, while Schiff recently made a pointed remark about avoiding the controversial book Fire and Fury: Inside the Trump White House for now.
Although West Wing creator Sorkin recently revealed a reboot idea starring Sterling K. Brown as the new president, there could be a tad too much negative backlash if the revival came to fruition with Trump in the White House. Until then, I'm sure this one-night-only reading is enough to help those disheartened with politics feel optimistic and support important causes like the SPJ.
The All the President's Men reading begins at 7:30 p.m. PT at Los Angeles City Hall on Saturday, Jan. 27.