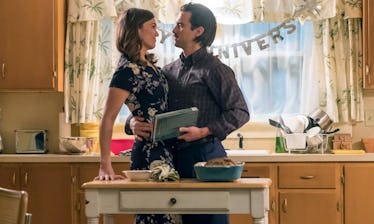 A 'This Is Us' Special Will Air The Week Before Season 3 To Help Get You Mentally Prepared
NBC
This Is Us' highly anticipated third season doesn't premiere until Tuesday, Sept. 25, which means viewers have been chomping at the bit for new episodes since March. Thankfully NBC is blessing patient fans with a tear-jerking treat. A This Is Us special will air before Season 3 on Sept. 18, so mark those calendars and give yourself a pep talk to prep for waterworks. The Paley Center Salutes This Is Us is coming to a TV set near you.
"Upon its 2016 premiere, This Is Us captured the hearts of viewers and immediately took its place as one of television's most beloved dramas," Paley Center's President & CEO Maureen J. Reidy stated, via Deadline. "We are proud to once again partner with our friends at NBC for this very special look at the trials and triumphs of the Pearson family before the series returns for its highly anticipated third season."
The one-hour program will feature interviews with This Is Us' cast and crew as they discuss the past and future of the beloved drama, and it will highlight clips from the first two seasons. Football fans have pre-season and This Is Us fans have tribute specials. I'm here for it. Go Pearsons!
This Is Us has become a television phenomenon since its pilot episode. The drama is a hit with both critics and audiences. It's natural to be skeptical on whether an entertertainment juggernaut will be able to maintain momentum, but it sounds like Season 3 is going to continue to keep things interesting.
"We had a few pretty big reveals to sort of lead of to where we're going with Season 3 and the future of the show," Justin Hartley, who plays Kevin, teased in a "First Look" video speak peek about upcoming episodes.
The Season 2 finale opened up intriguing doors for the Big Three that led to a lot of burning questions regarding their fates. A flash-forward to approximately a year after the episode's events hinted that Toby's depression would worsen and that Kevin would be traveling with his new girlfriend. A heartbreaking glimpse into Randall's later life showed him and adult Tess "not ready" to go see someone referred to only as "her." That someone still remains a mystery. But don't stress too much — "her"'s identity is set to be unveiled this coming season.
The story surrounding Jack's death unfolded in Season 2, but the beloved Pearson's patriarch isn't going anywhere. His experience in Vietnam will be a huge focus in Season 3, and his early days with Rebecca before their kids entered the picture will receive some much-needed screen time.
"It's sort of at the beginning of their courtship," Mandy Moore teased. "Picking up from the night where they first met and how they spent the rest of that evening."
This Is Us' third season will also put the spotlight on previously minor characters like Deja, Randall and Beth's teenage foster child. Actress Lyric Ross was recently upped from recurring to series regular in the riveting role, so viewers should expect to see more of her as the show progresses.
"I have to say, I feel like (Season 3 is) our best season yet," Mandy Moore told The Today Show in July.
I'll take her word for it, although something tells me she doesn't need to convince loyal watchers to tune in.
This Is Us Season 3 premieres Tuesday, Sept. 25 on NBC. The Paley Center Salutes This Is Us airs Tuesday, Sept 18.