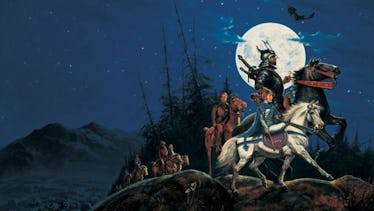 Female 'Game Of Thrones' Fans Will Love Amazon's New Badass Fantasy Series
Tor Books
When Game of Thrones ends in 2019, it will be a watershed moment, and not just for HBO. I personally began writing on the internet because I was so excited one of my favorite series of books was being made into a TV show. I've never known a time when there wasn't such a thing as Game of Thrones traffic, and I don't know what the internet is going to do without it. But I do know what other networks are doing. They're looking to fill the gap, with shows like The Wheel of Time series, coming to Amazon.
Amazon is betting big on fantasy. As most fans know, they paid out the GDP of a small country for the rights to The Lord of the Rings last year. But The Wheel of Time is different. It was the first modern high fantasy series of the 1990s to attempt to take what Tolkien started and create a modernized, sprawling saga of good and evil, with a more gender-balanced cast.
One could say that without Robert Jordan's The Wheel of Time, there would be no George R.R. Martin's A Song of Ice and Fire. The two share many common elements, including each installment being nearly 1000 pages a pop, revolving point-of-view chapters which slowly spread out to encompass the inner thoughts of dozens of characters, and a sense as the series went on the author in question might never finish.
But Martin's experience with TV gave him a leg up when producers started calling in the wake of Lord of the Rings' success in the mid-2000s, shepherding his series to HBO and global fame. Jordan, who passed away in 2007, never got to see his book adapted. It spent most of the last decade trapped in development hell. It was only recently that the rights became available once more, allowing Sony to shop it to Amazon, which has now greenlit the show to full series.
According to Deadline, Amazon will take the sweeping epic and reangle it into a "female-driven fantasy series."
The Wheel of Time, which has sold over 90M books around the world, is set in a sprawling, epic world where magic exists, but only women can use it. The story follows Moiraine, a member of the shadowy and influential all-female organization called the 'Aes Sedai' as she embarks on a dangerous, world-spanning journey with five young men and women. Moiraine believes one of them might be the reincarnation of an incredibly powerful individual, whom prophecies say will either save humanity or destroy it.
Head of Amazon Studios Jennifer Salke says the studio was drawn to the potential feminist angle.
The Wheel of Time is endlessly fascinating and resonates hugely with fans as one of the best-selling global properties, and we were drawn to its timely narrative featuring powerful women at the core. We're thrilled to extend our relationship with devotees who've found the book series transformative and welcome new ones by bringing it to life on Prime Video for viewers worldwide.
There is no release date as of yet for The Wheel of Time, but most expect it will arrive as part of the 2019-2020 television season next year.